With today's blog, I want to do two things for my customers: the first being to remind you that any custom report filters you create can be imported into MyView.
Secondly, once you import that report into MyView, how to hack the bejeezus out of it to get what display you'd like.
Let me explain…
If you go to the STATUS tab and begin defining your filters for a report that you need, you have the option to import that report into MyView as show below: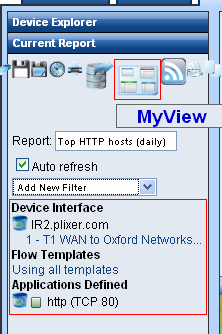 Once you choose to import the report into MyView, however, you'll notice that the report does include the table data, but it won't have the cool graph. This is where we get fancy…
If you would like a graph summary with your custom report, the first thing we need is the report ID. To find this out, go back to your STATUS tab and click on the SAVED REPORTS bar at the bottom left hand side.
Once there, find your report filter and click on the magnifying glass icon to the left of the report filter name.
When you click on it, you will get a summary box. At the top right hand corner, we provide the report ID number. See this screenshot: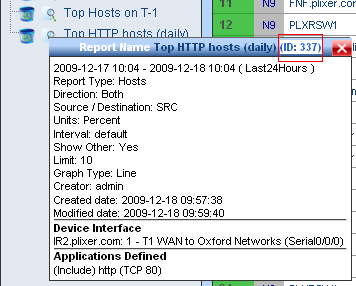 Once you have that ID number, head back into MyView and we are going to click on the + sign in the upper right hand corner to manage our gadgets. With the new drop down box you have, you'll notice a little icon just to the right of the drop down menu with the description of All Categories.
When you click on that icon, it wil launch a screen that allows you to customize your own gadgets. Within the URL box, you'll want to follow this URL model: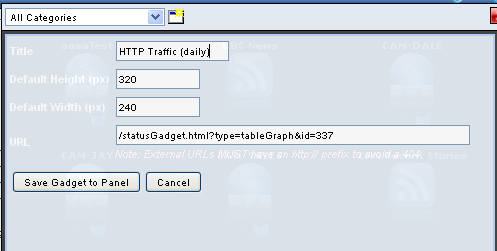 Notice how within the URL, I have the value type=tableGraph. This value will define that I want both the data tables and the graph within my gadget. The id=337 is important too, this identifies which report ID number for our favorite NetFlow reporting tool to build the graph around.
Once you have defined your report ID, save it and watch as Scrutinizer builds your gadget.
Just keep in mind that this is only a temporary setup. We will be building an engine shortly that will allow you to choose the visual layout of your reports within MyView.