(2012 update: Logalot is now part of Scrutinizer)
One of our customers called wanting to know if he could send customized e-mail notifications to the network administrators in charge of different groups of devices within Scrutinizer.
Here's the situation:
The customer has about five different groups broken down by region like North America, Asia Pac, Europe, and so forth.  These regions are managed by different  teams of administrators in those areas.
When a problem arises on a device in Scrutinizer, he wants e-mails sent to the response team in charge of that area and of that device.  He didn't want the team to be bombarded with redundant e-mails of the problem.
The solution is to install the Logalot add-on to the Scrutinizer server and configure its notification engine to intelligently route notifications any way you want.
Logalot is a policy-based log manager that can listen for syslogs coming from Scrutinizer when an alarm is triggered.   We can create a Logalot policy for each device in a group that would send an e-mail to the person or group responsible for the device that has triggered the alarm.  We can even color code each device policy the same way for each group for easy identification and management on the Logalot Bulletin Board and policy manager.   Logalot is also flexible enough so that you can configure it to send notifications every 5 minutes, or only once until it's resolved.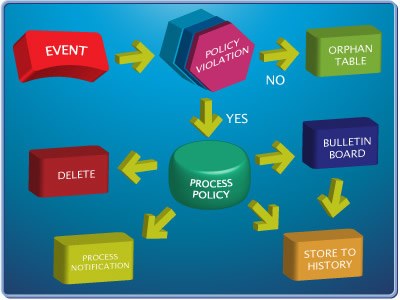 Logalot can do much more than just process Scrutinizer notifications.  It can receive syslogs, SMTP, and SNMP Trap messages from any device as well as monitor Windows Event logs.
For more tips about setting up e-mail notifications see this post about sending alerts from alarms generated by Scrutinizer. And go here for more tips about Scrutinizer, including a sneak peek of Scrutinizer version 7, and Scrutinizer class  map reporting.