With businesses of today relying heavily on internet connectivity for business critical applications, awareness of what's happening on your network is becoming more important than ever. With NetFlow and sFlow enabled routers and switches, our network analysis tool can be configured to automatically email reports letting you know exactly who or what is using your valuable bandwidth.
Emailing NetFlow Reports
After you've configured your email server within Scrutinizer (Admin -> Settings -> Email Server) you will have the ability to schedule and email Scrutinizer reports.
When you're viewing any Scrutinizer NetFlow or sFlow report you have the option to email the report on demand by selecting the "Email" button in your Current Report panel. You'll be asked where to send the report and if you'd like to add any comments, allowing you to share the report you're viewing.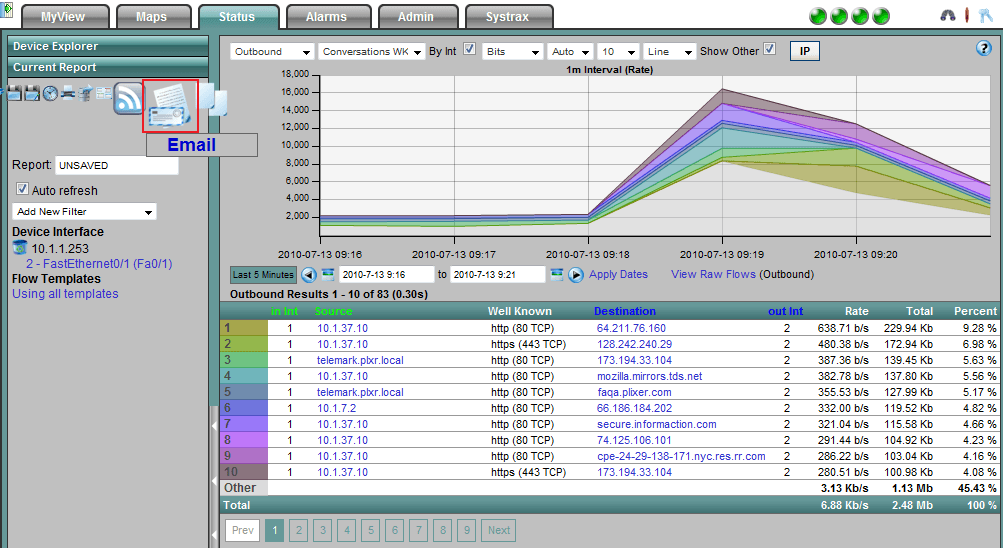 Scheduling NetFlow Reports
Before you can schedule a report in Scrutinizer the report will need to be saved. When you're saving a report it's important to pay attention to the time frame you're selecting, so you're always getting the report you want. There are two types of time frames you can choose from; a dynamic time frame which will always show you the most recent data, such as Yesterday, Last Week, Last Month or Last Year, or you can select a static (Custom) time frame which will always have the exact same start and end times. When you're scheduling a report you will want to make sure you use one of the following dynamic time frames, so every time the report is emailed you will be getting the most recent data.  This is a great way to keep track of bandwidth usage trends.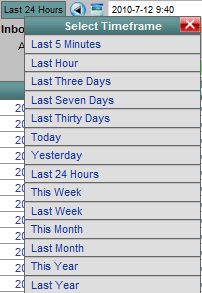 Once you have saved the report click on the clock in the Current Report panel to configure the time of day to send the email, the frequency, and the recipients.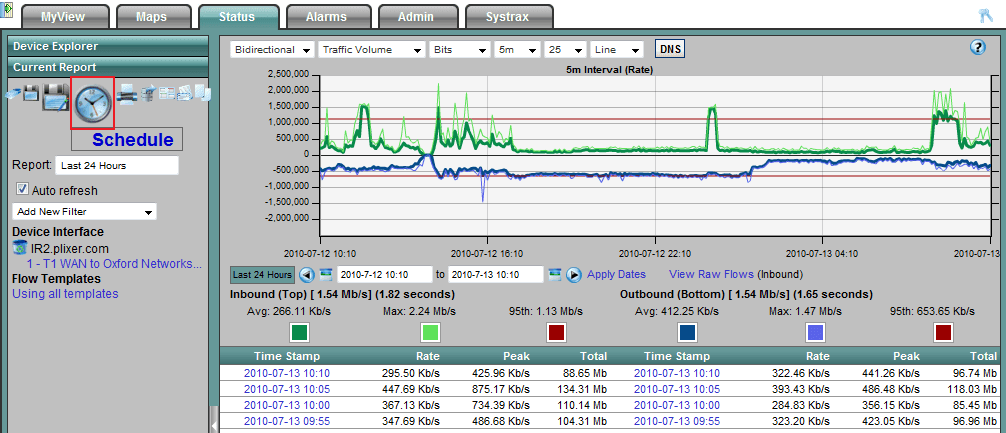 Scheduling Top Interfaces and Alarms

The report scheduling clock can also be found in the upper right hand corner of both the Status and Alarms tabs giving you the ability to email your top interfaces and top alarms on a regular basis.

Scrutinizer's flexible reporting capabilities are one of the many reasons that make it a best at NetFlow solution. If you have NetFlow capable devices and are in the market for a NetFlow analyzer check out Scrutinizer by downloading our free NetFlow Analyzer and taking a 14-day trial.