Good news, we now have a scalable high volume NetFlow solution. Our latest hardware appliance is capturing over 100,000 flows per second, that's 6 million flows per minute! This is a large enterprise or service provider NetFlow solution for customers that generate serious NetFlow volumes.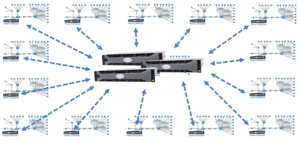 After deploying dozens of collectors, it is possible to achieve collection rates reaching into the billions of flows per day.
NOTE: we also have a virtual appliance.
This week I've been traveling through the UK and France meeting with customers and talking about how to scale NetFlow collection with the new appliance.
This week we have seen some pretty impressive server room monitoring.  Check out our facebook page as JimmyD and I post pictures during our trip.
Anyway, what else can we deliver in the latest version of our NetFlow analysis tool? Please swing by our booth at CiscoLive in London booth #E4 and take a look at our latest network traffic monitor.