Most NetFlow monitoring architectures inherently support SCADA compliance efforts.  Before I digress on how, lets define what SCADA stands for: Supervisory Control And Data Acquisition. As the name indicates, it is not a full control system, but rather focuses on the supervisory level.  SCADA systems are used not only in most industrial processes: e.g. steel making, power generation (conventional and nuclear) and distribution, chemistry, but also in some experimental facilities such as nuclear fusion (e.g. CERN).
IPFIX and NetFlow collection and reporting supports SCADA software systems because it helps IT departments optimized network connection times between disparate hosts in near real time.  Because of this, it can help optimize network availability. Some NetFlow and IPFIX Analysis solutions support SCADA compliance efforts by:
Providing insight on busy connections where frivolous traffic could be removed resulting in optimized connections
Displaying mashups or dashboards that provide a console into potential network threats, congested links, top talkers, applications across thousands of routers and switches
Delivering details which enable administrators to collect profiles on specific hosts or applications Constantly collecting NetFlow – 7×24 and analyzing flows with forensic precision to uncover network communication threats. Using network behavior analysis, the NetFlow solution can take action.
Supporting efforts to meet the demands of NERC CIP and FISMA/NIST
Delivering the visibility, measurability and accountability mandated to maintain compliance with both PCI DSS (Payment Card Industry Data Security Standard) and PA DSS (Payment Application Data Security Standard).
Creating a Centralization of data across different physical and virtual networks
Similar to distributed NetFlow collectors, SCADA systems like to be centralized and strive to provide a HMI (Human Machine Interface) which presents the data in a graphical customizable interface: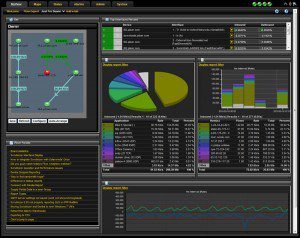 The gadgets in the above dashboard mashup can be imported into other systems via a URL.
We understand that the costs resulting from failure of a control system could be very high, for a few installations, even lives may be lost.  The calculated value of mean time to failure for superior reliability systems could be on order for centuries.