I saw some good news the other day from Riverbed that NetFlow v9 will be supported albeit in "the upcoming release of version 6.0". The exact date is not specified.
I decided to investigate this and communicated with a developer over at Riverbed. He explained that egress is supported with v9 enabled by default.
Why is Egress a big deal?
To understand why egress flows are necessary with WAN optimization, you should read my blog on Best Practices for Cisco WAAS Reporting using NetFlow. In short, without egress flows NetFlow Analyzer software must use ingress flows to display outbound data.  If the data was compressed, using ingress flows to display what went outbound will not show the byte reduction.
Many of our customers own Cisco WAAS and Riverbed Steelhead hardware and since we are partnered with both companies, I periodically blog and encourage vendors to support what I feel are necessary technologies.  Riverbed's support for Cisco NetFlow v9 has been a long time coming. I'm glad they have finally made the investment.
Riverbed Performance Test
Keith Schultz published an study in InfoWorld on Riverbed and WAN Acceleration.  Scrutinizer was used to display the NetFlow data. I hope Keith uses Scrutinizer v7 for the NetFlow reporting test if he goes back into the lab.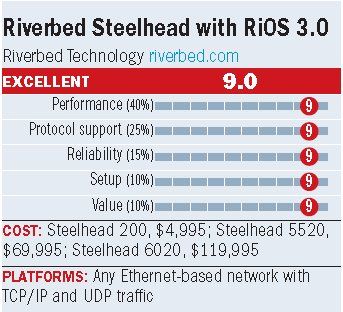 Riverbed is one of our alliance partners and has been a member of the Riverbed® Technology Alliance Program since July of 2008.