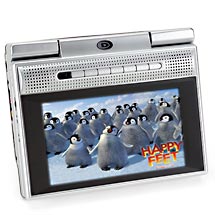 That was it… the last straw. I'd had enough!
We purchased a car DVD player at Wal-Mart last year and it died.  My overall goal with the DVD player was to promote happiness in the car. This solution was specifically targeted towards my 3-year-old daughter,  Molly.  Before last week the product performed well. I would rip some recorded shows to DVD and she would watch them. Primitive, but it worked.
In general, I would get three shows per DVD. For Molly and my wife that was good. For me, being a data freak, it was less then acceptable. I mean, in today's world of cheap storage, why can't I have more? My wife assured me that there was no way we were going to replace a working player. My dreams were dashed.
My salvation finally came! One day, the DVD player started to heat up and shut down. Being a technology expert, I looked at the device and unequivocally came to the one and only possible conclusion. It was broken. So, I quickly put it on eBay as an 'AS-IS' product,  recouped some of the original cost, and started hunting for a new machine.

I decided to go with the Archos 704 with Wi-Fi. It cost about $100 more than I had spent on the original DVD player, but the added features justified the cost. So, I was off to my happy place, which is buying small electronic devices for me to play with.
In the car this little unit can now hold well over 20 DVDs of content,  it can play music and podcasts, and it can show pictures. For Molly, it's great. She has a variety of shows to watch, she can listen to an audio story book or even settle down with some music.
At home Molly doesn't have a TV in her room, but we do let her watch a show or two when appropriate. Now she can watch any of the stored shows, and with the Wi-Fi connection, she can watch shows stored on my Windows Home Server or Media Center. That also includes listening to audio books and music.
So I am pleased. The unit works well with our network and its vast media collection. Best of all, my daughter is happy to enjoy her shows when she wants. I guess you can't ask for more.