While attending CeBit in Germany last March, I was able to meet our German reseller, TCC Gmbh, as well as our Nordic reseller, Plan Two. These types of meetings are important for two reasons. The first is being able to put a face with a name. Knowing who you are talking to and being able to associate that person with a physical meeting can go a long way in helping that relationship grow. The second is market understanding. In the international arena, having strong resellers who understand their client's needs, as well as their country's laws and regulations is necessary. It is the only way you can ensure growth in that country.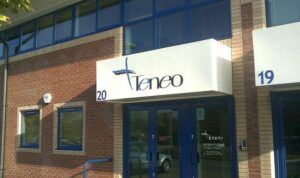 This month, I had the privilege of meeting with our largest UK reseller, Teneo.
I figured this was a great time to meet, considering the upcoming  release of Scrutinizer 8.0 and the new Mailinizer Exchange log monitor.  So off to England I went. I was staying in London, so I had to catch the tube to Reading. What a beautiful area, a quintessential British town.  The first part of the day at Teneo was the meet and greet. Being able to finally shake hands with Seth, Gemma, Lorraine and the rest of the energetic team was well worth the long plane ride and loss of sleep.
The rest of the day consisted of a sales meeting, support meeting, operations overview meeting, marking meeting, and setting up a time for more in-depth meetings when I get back to the States.
Don't get me wrong, this many meetings in one day could put the strongest engineers to sleep.  But thanks to their energy and unique British sense of humor, the time seemed to pass by quickly.
As I mentioned before, having an intimate understanding of your reseller's daily operations can be the key ingredient in solidifying a professional relationship.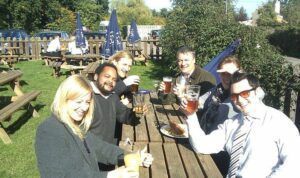 I have to admit, one of my favorite daily events is lunch. I was excited to see what this area had to offer.  So, for our lunch break, we went over to the nearby Fox & Hounds pub.  As a rite of passage I enjoyed the traditional fish-n-chips. It was all there, green peas, chips (French Fries)  and an unbelievably large piece of fish.  You can see from the picture we all had a great time.
After lunch we continued our meetings and worked on our game plan for the future.  After the close of the day Seth and the guys took me to a pub in downtown Reading.  At the pub we had the opportunity to discuss various British topics over an ale that was made by one of the teams' friends. It was the perfect way to end the day.
After a quick ride to the train station, I was soon off to London.