Hello Everyone,
If you would like to see other blogs on how to setup IP SLAs check out these links.
IP SLA – Jitter – 1 of 4
IP SLA – ICMP Echo – 2 of 4
IP SLA – HTTP – 4 of 4
This week we are focusing on the Cisco IP SLA TCP Connect operation.  One can consider this to be a ping over TCP.  The TCP Connect operation can be useful in several ways.  Administrators can set it up to baseline existing performance, and also to monitor changes in performance due to configuration changes.
Some companies use this monitor for their own verification of outsourced service provider SLAs.  This information can then be used to negotiate more cost effective SLAs with their service providers.
The TCP Connect operation is also a great alternative to measure response times when ICMP ping is blocked.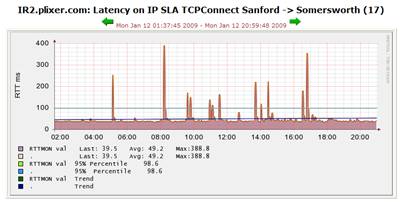 If you would like detailed instructions on setting up the Cisco TCP Connect IP SLA operation, check out our white paper on how to set it up.
Check out the next and final part of the series – HTTP IP SLAs.