Hello Everyone,
If you would like to see other blogs on how to setup IP SLAs check out these links.
IP SLA – Jitter – 1 of 4
IP SLA – TCP Connect – 3 of 4
IP SLA – HTTP – 4 of 4
In my first blog, we covered the Cisco Jitter IP SLA Operation and how to set it up.  This week the focus will be on the ICMP Echo Operation.
The ICMP Echo IP SLA Operation measures end-to-end response time between a Cisco router and any device with an IP Address. The response time is computed by measuring the time taken between sending an ICMP Echo request and receiving an Echo reply.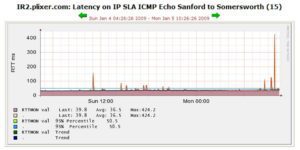 The ICMP Echo operation can be useful in several ways.  Administrators can set it up to baseline existing performance, and also to monitor changes in performance due to configuration changes.
This operation is easy to set up, and the information made available makes this a great tool for any administrator.
Check out our whitepaper for detailed instructions on how to set it up.
Check out Part 3 of the series focusing on TCP Connect IP SLA.