Hello everyone,
Welcome to the launch of our new website Systrax! Coming from the technical support desk; we all hope that you will find valuable threads and blogs that will make Scrutinizer even easier to manage than it already is…
In an effort to make sure that your copy ofScrutinizer is running at 100%, we will be posting blogs that will tackle some of the most common issues that we see with customers when they request support.
Today, I wanted to address an issue that some customers don't even notice when calling for support. Netflow misconfigurations.
First, let's give every Network Engineer out there a gold star for the effort they put in setting up all the 50 billion devices on their network for Netflow. That's no small feat…
So now that you have Netflow setup, let's make sure of the small things too…
Listed below is a screenshot taken from a customer that we have worked with. Thanks to Chris for letting me use his setup as an example.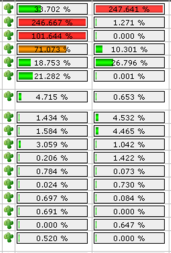 Looking at these interfaces, there's a couple problems to take note of. The first thing that screams at me is the utilization on those interfaces. How can an interface have more than 100% utilization? Stay tuned for a later blog to address this issue…
But let's focus on another big issue. If you look closely, you may notice there are interfaces showing 0% utilization for either inbound or outbound traffic…
Now either there is truly no traffic coming in/out or we have a problem. Personally, I look at the 3rd interface from the top and I'm a bit skeptical. 101% utilization inbound with no outbound traffic? Uh huh…
So what causes this problem? If you've ever looked at our FAQ, we have provided you the configurations you'll need to enable Netflow on your devices.
It's basically 2 steps. Setup the global Netflow configs and then enable each interface.
Below is the command used for each interface.
router(config)# int Eth0/0
router(config)#ip route-cache flow
Along with the global Netflow commands that you have setup, it's critical that you enable ip route-cache flow on every active interface. If the interface is enabled and is routing any traffic, be sure to slap that config on that interface! If you do happen to forget to configure an active interface, Scrutinizer will report 0% utilization on either inbound or outbound traffic on every interface for that device.
As a note, if you do end up going back to your router to enable an interface with ip route-cache flow, be sure to give Scrutinizer a few minutes to report the utilization…