Certainly NetFlow and sFlow analysis is the paramount reason our customers choose Scrutinizer.  However, it isn't limited to top X reporting.  To Plixer, flow analysis goes beyond reactive trouble shooting.
We developed Flow Analytics to go beyond simple flow reporting.  Scrutinizer digs deep into flows and watches for behavior patterns that are not considered normal.
Across hundreds of flow exporting routers and switches, Flow Analytics™ delivers on:
The top Conversations
The top Applications
The top Source and Destination Hosts by bytes
The top Source and Destination Hosts by flows
The total number of unique Hosts
The total number of unique Applications
Internal threats overview and dashboard
Several other informative statistics
The NBA portion of Flow Analytics™ delivers on:
Which assets are under attack?
What threats are being missed?
Users which may not be following corporate policy.
Frequency trends of all threats
Monitoring to ensure that the existing infrastructure investments are adequate.
Details so that you can target areas to improve the security posture.
Notice below that we keep track of how long each active algorithm takes to run and trend the count (i.e. violation volume) over time as well.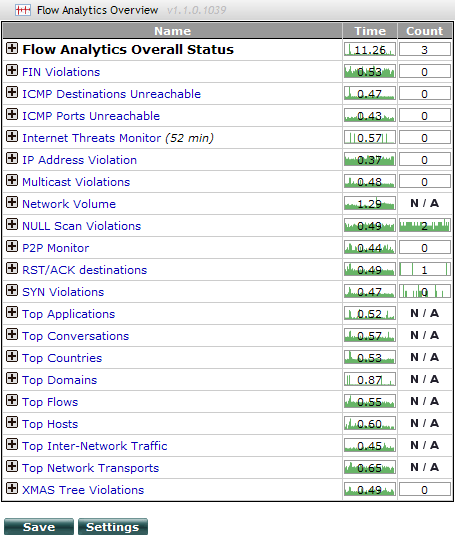 If you are not using Flow Analytics in your Scrutinizer installation, you should call our support right away to get it setup.  Most people are amazed at what it tells them.
Did I mention our incredible network map ability?