"What is going on here? It's freezing!" is something I seem to hear here from time to time.  My friends who sit directly under the air vents have been saying the vents blow very cold air for a few minutes, then warm, then cold etc.  On the bright side they seem to stay warm from the activity of putting on and taking off their coats throughout the day.  It's all fun and games until I have to put my coat on.  Time to get to business…
Ironically, when the maintenance guy who we call KennyG shows up to check it out it, it miraculously warms up.  We know we have a problem because we've "temperature lasered" the vents and found that they were about 55 degrees.  What we need is cold hard proof, so why not score points for style while we're at it?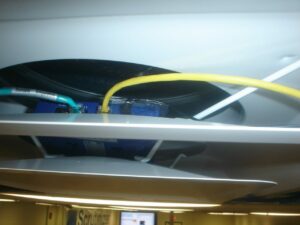 We decided we were going to shove an SNMP temperature sensor in the air vent and graph the temperature with Denika so that we can show KennyG what really is going on here and when.  Ravica offers Bitsights, which are really cool little environmental probes that we use to monitor our server room's temperature and humidity.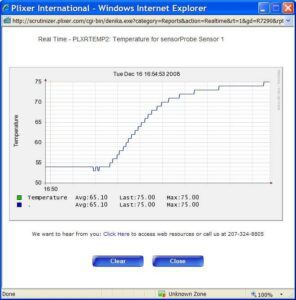 It turns out the temperature swings are pretty substantial, and probably shouldn't be blowing air that cold in the first place.   KennyG now has the information that he needs to do whatever KennyG does and hopefully the need to wear our jackets inside will be a thing of the Christmas past.
So, if your maintenance guy isn't working too hard on solving your problem with the HVAC, tell him to go shove a temperature sensor in the vent.
Merry Christmas!