What if network maps were not just a graphical representation of physical connectivity on a network?  A map in our NetFlow and sFlow Analyser is more than just a map:
You can view the utilization  of every NetFlow exporting interface on your map.
Links on the map are clickable. This brings up a report on traffic information for that particular connection. Information including, utilization, protocols, applications, etc, the entire scrutinizer report arsenal is available.
Connections change color based on definable utilization thresholds.
Google Maps can be used as a background, allowing for large scale network map based on longitude and latitude.
Device  Icons change color based on the device status.
You can create links to other map applications (e.g. flash maps with Visio backgrounds, WhatsUp Gold, etc).
Quick guide to creating Maps in scrutinizer
New map: From the scrutinizer web interface click on map or if you already are on the Maps tab, click on Creating a group (Map) and name your Flash or Google Map
Add devices: After naming your map a window looking like the following image will pop up. This window allows you to add devices to the map. Simply select from the red box and click add to add a device to the map. The green box will contain members of your newly created map or group.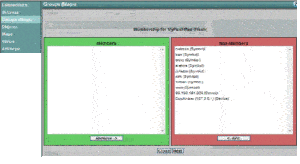 Add other objects: You can also add other objects representing, work stations, the world wide web, a data center, etc. From the menu click "object" then "new object".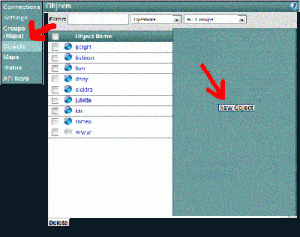 Add connections: After objects are added to the map or group, click "connections" to add  connections. Note that these connections also indicate the direction of traffic.
Putting things in the right place: Whenever you are viewing a map (Map tab -> mymap), to switch to edit mode right click on an empty space of the map, then click "Edit Mode"
Map Example: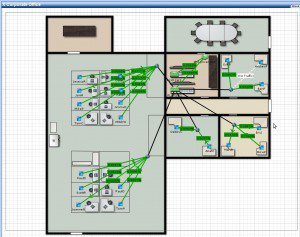 Once things look the way you want them, click save and your network map is ready for use. I hope you enjoyed this blog. Please feel free to contact me with question at 207 324 8805.