Using Flexible NetFlow (FnF) to configure user defined templates, you have the ability to export layer 2 information such as MAC address, fragment identification and VLAN ID's.
Using the right NetFlow and sFlow Analysis tool, gives you the ability to fully report on those user defined fields set up in the Flexible NetFlow templates.
Included in the reporting engine in Scrutinizer v8 is an advanced filter that lets you filter any report on any field found in the exported NetFlow template.
Scrutinizer is currently the only product on the market that lets you do this.
Using the Advanced Filter, lets see how we can use those layer 2 user defined fields to filter a Conversation report on a MAC address and then exclude an interface from the report.
From the Current Report window, we select the Advanced Filter from the Add New Filter box.

Then we select the destinationMacAddress field from the template field list and apply a LIKE filter for the MAC address we want to filter the report on. Then add a second advanced filter where we filter the report on the dotq1VlanId field to exclude Vlan2 from the report.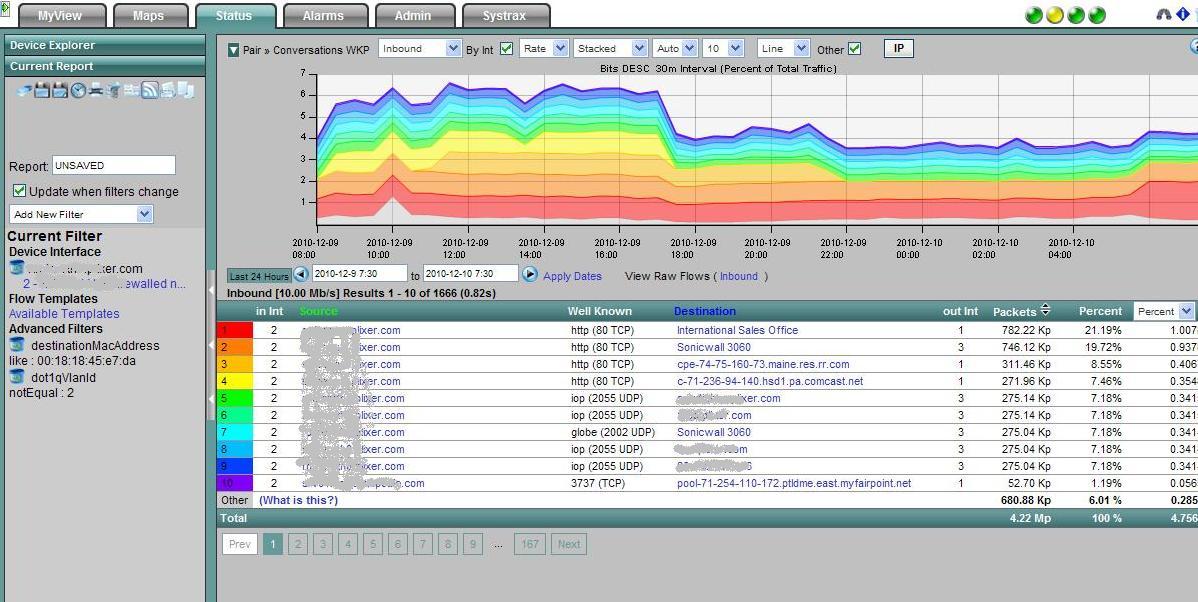 Here is a link to the blog: "How to Configure Flexible NetFlow". You will find it very helpful if you have called us looking for help in enabling Flexible NetFlow.
Look how using IPFIX exported from nProbe, in combination with the new advanced reporting filter options in Scrutinizer, we can now catch network traffic destined for hand held devices.
Have you heard about Cisco's Medianet?
Using Medianet and Flexible NetFlow, IPSLA reporting is now available from a NetFlow export. A flow through the network can now be verified end to end and hop by hop for quality of service. This includes checks for jitter, packet loss, round trip time and more. This is much better than IP SLA trends which are often based on synthetic transactions and not the actual connection the user experienced during the call. Our NetFlow Analyzer delivers detailed reports on all traffic related to Voice and Video, making troubleshooting issues related to choppy communications is much easier.
And again, Scrutinizer is the only product on the market that lets you report from this new technology.
There are a number of new report filters available in Scrutinizer v8. If you would like me to show you how to use them to assist with your network analysis needs, give me a call – (207)324-8805