Do you use NetFlow for your network traffic monitoring??
If you do, but don't always see the data the way you need for optimal network traffic analysis, just let us know. Customizing the view of your NetFlow data is the key to getting the most from NetFlow reporting.

Yesterday I was working with a customer who uses several of the NetFlow Flow Analytics gadgets.  He liked the Top Conversations gadget, but it didn't give him exactly what he wanted, as the top ten conversations for his network were mostly between the same two hosts. (Six of out ten conversations to be exact.)
So, how to get top ten conversations with unique hosts?  Answer: Host to host report.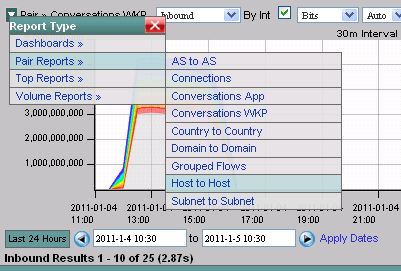 I walked him through creating a custom Host to host report for his core routers, saving the report, then creating a MyView gadget for the custom report.
In just a few minutes, he now has the exact data that is valuable to him.

This is a simple example of how the flexibility of your NetFlow monitoring application is the only limit to the information you can get from NetFlow reporting.  If you want to see more and get more value in network management, give us a call, we're always happy to show off our best in NetFlow monitoring application.
Oh, and did I mention that we now have a Microsoft Exchange log analyzer?