This is Brighton. He is currently 3 1/2 years-old and he's my son. He's very much like his mother, with a strong will and a fierce determination that will make him successful in about anything he does.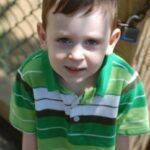 However, that same determination also sometimes makes his parents want to carve their brains out with a spoon.
He's at that stage where he will repeat the same thing over and over and over and over until everyone immediately stops what they are doing to address his needs.
For example:
"Can I have appajuse pease?" <—- First initial request
"Mama, canna I have appajuse pease?" <—- Warning shot
"Can I have a appajuse pease? Can I have a appajuse pease? Can I have a appajuse pease? Can I have a appajuse pease?"
It's at this point we always end up stopping what we are doing and ask the stupidest question ever:
"Son, what do you want?!?!" <—- Don't ask me why we even need to ask.
But in the end he gets his apple juice.
Check out this funny Tweet that I once got from my wife. This helps set the context, if you haven't gotten it already.

Sometimes being part of the IT desk, you probably hear the same things over and over again from colleagues in your company. Everything ranging from not being able to connect to the net, to the remote site being down, the Internet connection being slow and last but NOT least; "Why can't I hit YouTube.com?"
<hands you a spoon>
Sometimes, we have to bite the bullet and just give the kid some apple juice.
However, there are tools out there that can make this process much easier to work with; I'm speaking of network management, not apple juice by the way. I encourage you to take some time and consider how monitoring your network using NetFlow can make your life a bit easier.
With NetFlow, you spend much less time considering the "why" and skipping right on to the "how to fix it". It's easy mode with apple juice…
Please check out a couple of these blogs if you would like to know more:
What is NetFlow – How does it work?
How to monitor remote employees using Scrutinizer and NetFlow