Summer has yet to hit Maine. By the calendar, yes, but judging by the weather so far, no.
It seemed liked it has rained every day in June, and with low temps too.
Even our 4th of July holiday weekend was a washout, with the sun peeking out for a few hours, then the rain coming back to soak us as we sat down for dinner.
But I like to look for the silver lining in the dark clouds (pun intended), and here is my silver lining:

We have a camp in Sandy River Plantation, Maine, near Rangeley. A brook runs through our property that typically is just a trickling brook. There is a section of the brook with several drops over large rocks. I had never seen it as a "waterfall", however, with the constant rain we've received so far this season, the water is cascading over and down through the boulders.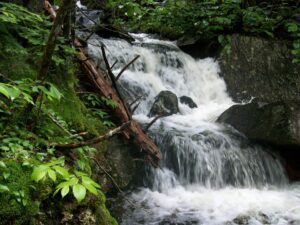 Yes, it rained and it rained and it rained, but seeing the natural wonder it brings makes it just a bit more bearable. See for yourself with this YouTube video of the babbling brook:
http://www.youtube.com/watch?v=3gm9QK-gi0M
For those of you in a hotter and dryer climate than New England has had this summer, imagine soaking your feet in this……….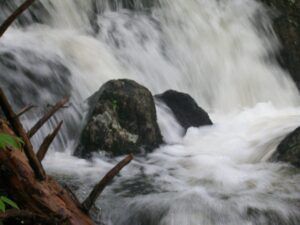 And, at risk of jinxing us for July and August, our future outlook is a little more positive. It does look like we will be having clearer skies for awhile. We've even seen the sun for a few days now. Temps are still well below normal, but the dry weather is welcome.