At the support desk we often get asked questions about NetFlow technology and what, if any, performance impact enabling NetFlow will have on their routers or switches.
Cisco® NetFlow technology is an embedded feature within Cisco IOS routers and high end switches. NetFlow data records consist of information about source and destination addresses, along with the protocols and ports used in the end-to-end conversation. The NetFlow feature set allows for the tracking of individual IP flows as they are received at a Cisco router or switching device.
Network administrators can use the NetFlow flow records for a variety of purposes, including accounting, billing, network planning, traffic engineering and user or application monitoring.
Many customers who are new to NetFlow are naturally cautious about introducing it into their network. They need to understand the potential performance impact of enabling NetFlow before they are willing to deploy it. Cisco has released a NetFlow Performance Analysis paper that examines the CPU impact of enabling NetFlow services in various scenarios on several different Cisco hardware platforms.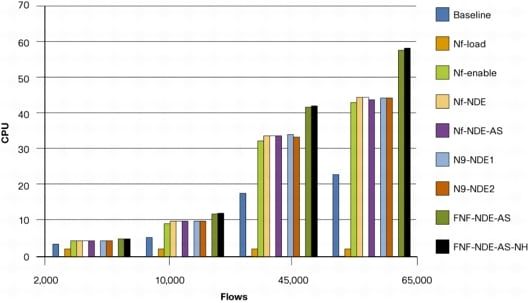 Before you get too concerned about what the report is showing, look at those flow numbers. They represent a "worst-case scenario" in terms of the traffic flows seen by the routers, and the results must be viewed in that context.
Now that you have decided to enable NetFlow on your routers and switching devices, it's time to put that flow data to work for you.
Let us show you how our NetFlow and sFlow Analysis Tool provides the best custom reporting engine on the market today, supporting leading edge technologies like Cisco ASA, Flexible NetFlow, IPFIX, and NBAR.
Give me a call – (207)324-8805