You have heard of all the benefits gained by using Scrutinizer v7 as your NetFlow analysis tool. You decide that you are going to make the move to enable Netflow on your Cisco 4500 Series Switch. Do you need a NetFlow Services Card to do so?
The Cisco NetFlow Services Card (WS-F4531) is an optional daughter card for the Catalyst 4500 switch with Supervisor Engine IV or Supervisor Engine V. It extends the functions of the Supervisor Engine by collecting NetFlow statistics and enhanced virtual LAN (VLAN) statistics without affecting the forwarding performance rates of the supervisor engine.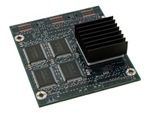 To use the NetFlow feature on the Cisco 4500 Series, you must have the Supervisor Engine V-10GE, which has the functionality embedded in the supervisor engine, or the NetFlow Services Card (WS-F4531), and either a Supervisor Engine IV or a Supervisor Engine V, running Cisco IOS Version 12.1(13)EW or greater.
The WS-F4531, NetFlow Services Card is available at a number of online computer parts retailers, and cost between $1000 and $2000. Just Google "WS-F4531" and pick from a supplier that has a price that meets your budget.
Congratulations! By using Scrutinizer v7 and NetFlow, you have made your network analysis task easier.
Let the flows begin!