Things reportedly got kind of crazy today when what we think was a NetFlow Ninja(TM) popped into the Sanford, Maine offices of Plixer International. "He dropped down from the ceiling and handed me a letter demanding an nProbe,"  said Jon Mills, Marketing Manager for Plixer. "The man grabbed my plastic NetFlow Knight sword and started jabbing at my cubical walls. I nearly spilled coffee on my keyboard."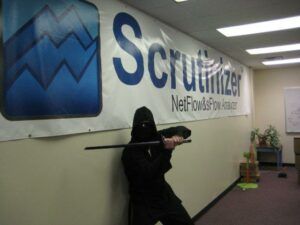 It is believed the ninja was curious about Plixer's IPFIX analysis capabilities with the nProbe, developed by Luca Deri. After several attempts to calm the ninja, Plixer support representatives were finally able to demonstrate the new functionality. Mills was unharmed by the would be assailant, claiming, "It turns out that he was really quite harmless. We're glad he let us take a few pictures and explain why we are one of the leaders in NetFlow Analysis."
"Our security camera snapped this picture of the scoundrel. I was going to send it to the Sanford Police, but there was something strange about this ninja… He sort of reminded me of Mix Master Mitch," remarked Karen Malankovich, Office Manager.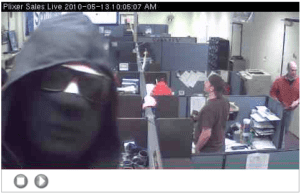 NetFlow reporting and sFlow analysis can be a very competitive business when it comes to network traffic monitoring.
Plixer is currently taking measures to increase the security presence in their office to help protect personnel from future breaches by ninjas, pirates or other historically displaced figures. Lancope however is always welcome.  Security monitoring solutions being implemented involve hardware provided by Ravica.com; who also supplies IT professionals with network traffic monitoring software and hardware, such as the nProbe and nBox. With these measures, Plixer expects similar incidents to be a thing of the past.