Sometimes you see a name flash across your screen that draws your attention.  A few months ago I had one that did just that. When I decided to visit London I knew it was an attraction that I needed to see.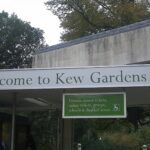 I use the term "amateur horticulturist" loosely when describing one of my hobbies. I am still in the beginning steps of building a self-contained, hydroponic garden and fish farm powered by Arduino. By "beginning steps" I mean that I have a lot of bookmarks and interesting YouTube videos.
Today was different. Today I tossed away my geek gardener dreams and immersed myself in, what can only be called, the most beautiful garden on the planet.  I visited Kew Gardens, which also goes by the prestigious name of "The Royal Botanical Gardens".
Early that morning I hopped on the tube and made my way to the Town of Kew. A quick walk down the street brought me to a large stone wall and entry gate.
There were so many interesting things to see.  From the Palm House (which experts consider the most important surviving Victorian iron and glass structure in the world) to the treetop walkway, visitors are left in awe of the 250 year old garden. My favorite exhibit was the "Evolution House" where you can walk through the evolution of our planet. Needless to say, this 300 acre garden took up my entire day.
Equally important, Kew functions as a botanical research center and maintains the largest plant collection in the world. This side of their organization is what brought "The Royal Botanical Gardens" to my attention. They picked Scrutinizer as their NetFlow solution and I had the pleasure of working with them.