In today's information technology world, security is an increasingly important topic and having the right tools for the job is utterly necessary. So, you ask yourself, how can a NetFlow and sFlow analysis tool help you? Scrutinizer gives you the ability to monitor all the traffic on your network to identify IP addresses, bandwidth and port usage, possible threats, and any IPFIX or Flexible NetFlow custom fields, but what if you could go even deeper?
We've recently added a new feature for NetFlow username IP correlation which allows network administrators to identify who is logged into their network and where. This feature is available from any Scrutinizer report that contains host names or IP addresses.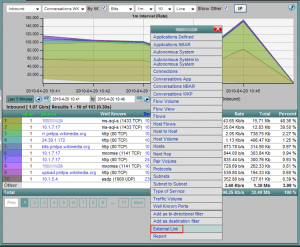 This feature uses WMI to initiate a connection from the Scrutinizer server to a computer on your network which identifies usernames who are currently logged in.

Now, not only can a network administrator find out what computers on the network are hogging all the bandwidth, but who's actually logged in doing it. This tool can also help identify intrusions and rule out false positives.
The following is a screen shot of who is currently logged into our domain controller.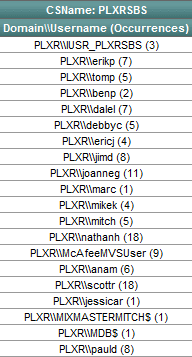 Here is an example of running the script on an end users machine:

I can see it now, "Hey Nate, Scrutinizer just popped up with an alarm telling me that one of our machines has violated the peer to peer algorithm in Flow Analytics. I checked it out and I can see your username is the only one logged into that machine. Get back to work and stop hogging the bandwidth!"
UPDATE: In Scrutinizer v11 we added Username as a report type. See below.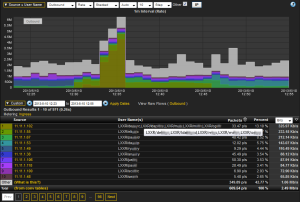 Currently, this feature is only available by request, please contact us if you're interested in using this feature and we would be glad to help set it up.