When was the last time you used a Network General Sniffer™?  Do you remember the Matrix view?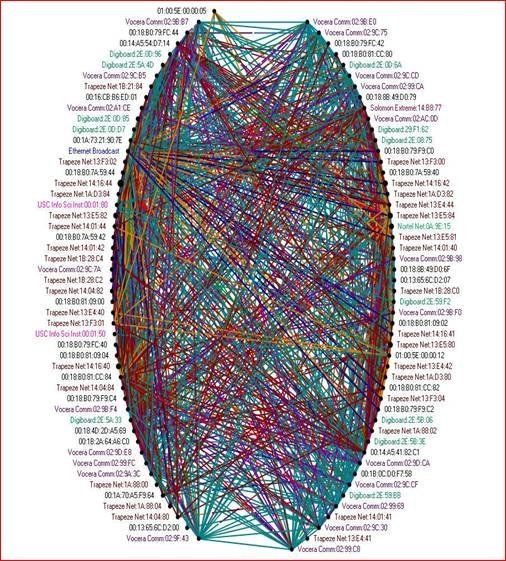 Brad Reese from Network World announced this almost a year ago. We finally decided to implement it into the rest of Scrutinizer.
A good network traffic monitor needs to display data in different formats and the above is an awesome way to get an idea of which hosts talked with other  hosts.  The trouble is, it was often a big mess. Over a year ago, our team set out to improve on this great idea.  We came up with what we call the Matrix.  It is a new way to enhance NetFlow Analysis in our network traffic analysis tool: Scrutinizer.
Enter the Matrix
The Matrix as shown below is a circular view that you can zoom in on by clicking the + and – signs.  Notice the legend shows green (into selected host) and blue (from selected host).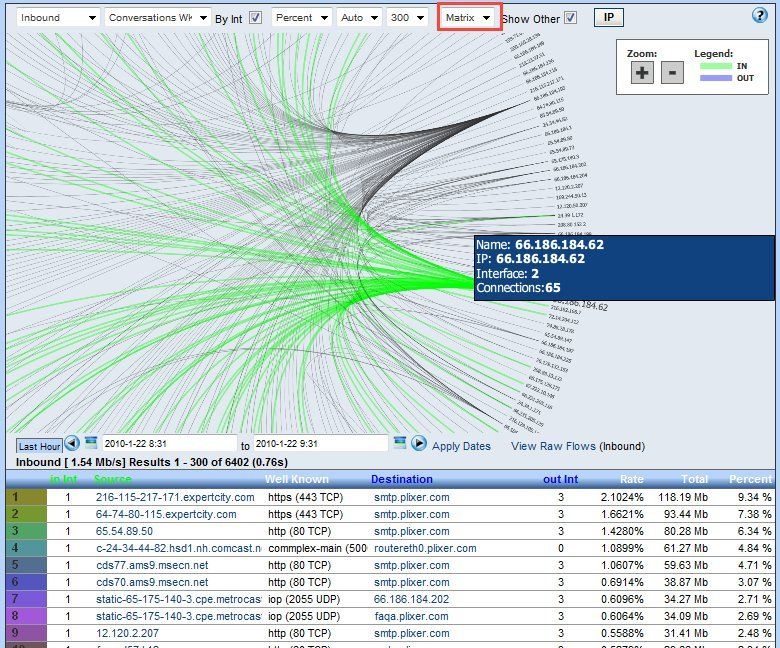 In the image above, you can click and hold the spokes with your mouse and spin the Matrix clockwise or counter clockwise.
It isn't just fun to work with, it very useful.  🙂  The Matrix gives upper management a better and clearer understanding of a selected host's network communication behavior.  It is a bird's eye view into the magnitude of the traffic pattern. Try the NetFlow Matrix demonstration.
The NetFlow and sFlow Matrix is another industry first just like support for NetFlow from the ASA and NetFlow NBAR. We constantly strive to be a best at NetFlow Reporting solution.  Please call us with your NetFlow collector suggestions.