We've had many requests from people

using our NetFlow, sFlow and IPFIX analyzer for the ability to view and save reports in PDF format and with our v8.5 release, NetFlow PDF reporting is now available.
Once PDF reporting has been set up, it will enable you to schedule reports such as SonicWALL Top URLs IPFIX reports or nProbe IPFIX Netflix traffic usage reports to be emailed to you on a regular basis, which makes network traffic analysis a breeze. You can also schedule PDF reports for your NetFlow Top Interfaces, NetFlow Alarms, and Server Vitals.
If you're not aware, Mailinizer, our IPFIX email log analyzer, is included for free with our v8.5 release and supports PDF reporting. If you're interested in setting up our Microsoft Exchange email tracking analyzer, give us a call at 207-324-8805 and we would be glad to help.
How to Setup PDF Reporting in Scrutinizer
Before you can export PDF reports, you will need to download a PDF converter and install it on your NetFlow collector server.
1. Install a rendering engine that can take a source file and destination file as parameters. We recommend wkhtmltopdf.
2. Next, in the Admin Tab -> Settings -> System Preferences, place the full path, including the EXE, in the PDF Converter Parameter (for example: C:\Program Files (x86)\wkhtmltopdf\wkhtmltopdf.exe)
3. Load the desired report and select the PDF option when specifying details for the current report.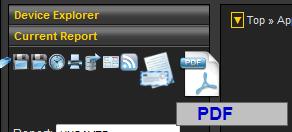 I've also included an example SonicWALL Top Applications PDF report for your viewing pleasure.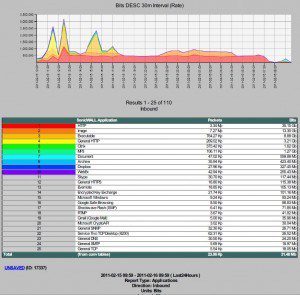 Having a NetFlow collector that supports all types of flows such as IPFIX, NetFlow v5 and v9, Flexible NetFlow, and NetFlow lite, is one thing that makes Scrutinizer a best at NetFlow solution.