A lot of the calls we receive these days seem to center around the topic of Cisco ASA's. And that's definitely a good thing. You see, we always welcome the opportunity to talk about our NetFlow Analysis tool, and the unique abilities it provides Network Administrators when it comes to network traffic analysis.
Not long ago I wrote a blog explaining how you can use NetFlow from Cisco ASA devices to provide network traffic analysis.
But did you ever hear the the term, "a picture is worth a thousand words?"
Watch the 5 minute webcast below to see how Scrutinizer v7 processes NetFlow from the ASA: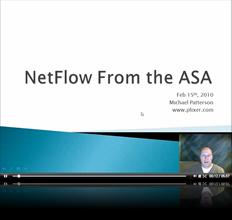 To take advantage of this and many other features found in our NetFlow traffic analyzer, such as NBAR and Flexible NetFlow support, download and install Scrutinizer v7 today.
If there are any questions that come up from the webcast (such as how to configure NetFlow on the ASA), please feel free to contact us at (207)324-8805.