We've just about finished it. The dust is beginning to settle here in the office and we're now left looking at this new product we've made…and we LOVE it. With the release of Scrutinizer v7 pending, we thought that now would be a good time to tell you all the cool things you will be able to do in this version that is unique to this release.
Over the next five weeks or so, we'll be showing you some fantastic new features that will demonstrate how serious we are about customer feature requests and feedback. These features are included because of you. We hope you enjoy them.
Feature 1: Encryption exclusions
We've included an option to exclude transport layer protocol types globally, per router or even on an individual interface.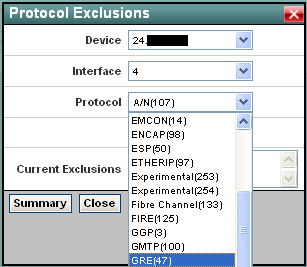 Very handy for excluding encrypted traffic, which Cisco routers sometimes report twice: once prior to encryption and once in encrypted form.
Feature 2: All flows, all the time
In the upcoming release, everyone will have access to all of their flow data. In Scrutinizer v6, you could see your top 1,000 conversations, but now with a click of a button, you have access to even the smallest of conversations. You never know, conversation 10,041 could be important…
Feature 3: Collector Improvements
With the new optimized collector, we've benchmarked it handling well over 3,000 flows per second from a single router, without it affecting front-end reporting performance. Very cool, since everyone's networks are expanding these days.
Feature 4: Group Permissions for Users
Group level permissions. With the new User Management options, you can create access rules for each group and then assign your users to them accordingly. With this feature, you won't have to configure each person's account individually. Thank your lucky stars for this feature if you plan on using LDAP.
Feature 5: Proxy Server configuration
Scrutinizer will also now have a configuration screen to make allowances for your local proxy server. Simply enter your proxy address, port to connect to and login credentials and you're good to go!
Those are your five new features for this week guys, but stay tuned as Jon next week will continue to part 2 and introduce five more super cool features of Scrutinizer v7.