Monitoring your employees use of the internet is getting easier everyday. NetFlow makes it very easy to gain insight to your network bandwidth, especially this time of the year. Thanksgiving is right around the corner and that means Black Friday and Cyber Monday are also close at hand. Many of our customers are concerned about Black Friday Internet Traffic and how it will impact their ecommerce efforts.  Our NetFlow and IPFIX reporting tool ships with several reports that can easily report on ecommerce traffic.  Even Cyber Monday internet traffic can be monitored the same way any company goes about monitoring corporate bandwidth.
Whether your monitoring black Friday traffic or if you're monitoring Cyber Monday traffic the way you go about it is basically the same. For example, in our NetFlow analyzer, the admin can run a report for host to host traffic and filter on an IP address range that includes all of your ecommerce services.
With NetFlow and IPFIX you can run reports on exactly what URLs they visit on port 80. Monitoring Cyber Monday traffic is easier than it has ever been. Devices like SonicWALL and nProbe allow you to monitor URL traffic through your network. If your curious to see exactly where John Doe is going on the internet than just add filter for his host IP.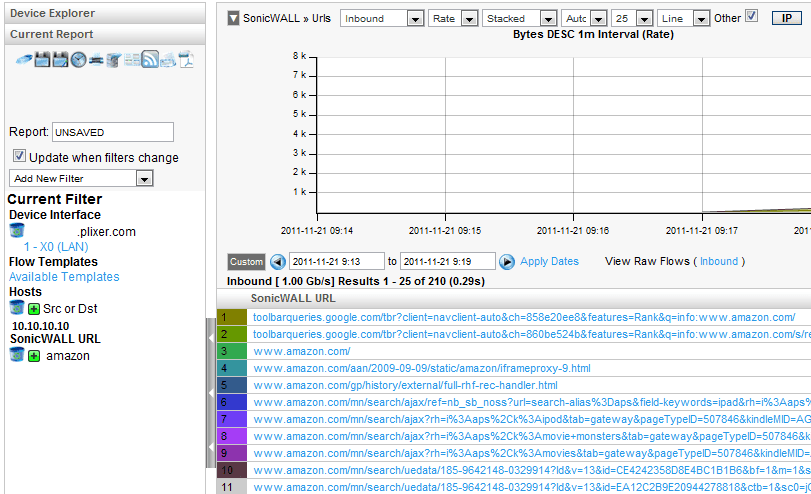 In this screen capture, I ran a SonicWALL URLs IPFIX report and added a filter for John Doe (10.10.10.10) and saw some Amazon traffic. So I decided to add another filter for any URL that contains 'Amazon' and look at  the results. Looks like John was doing some iPad shopping on Amazon while using the corporate internet connection.
Applying threshold filters to this report can also allow you to be notified if anyone on your network goes to any sites like ebay, amazon or newegg. Just run a URL report and apply the filters for these sites. Once that is done, apply a threshold filter amount of ~20KB to the report. Once that threshold is breached you will be alarmed. This way you can stay proactive when monitoring Cyber Monday and Black Friday bandwidth.
Monitoring bandwidth traffic has never been easier with NetFlow and IPFIX. With Christmas just over a month away, make sure to keep an eye on the shopping bandwidth!