We've been getting an increasing amount of requests asking how to monitor cloud services, Google Apps for example, and the impact they're having on the network. In this blog I'll discuss some of the different methods for identifying how much of your bandwidth is being consumed by Google.
What are Google's IP address ranges?
Whether you're trying to monitor Google Apps for business or monitor Google Apps for education the first, and most challenging thing we have to do is identify Google's networks. The challenge here is that Google can change their network range at any given time It's like shooting at a moving target. Luckily, Google has provided us with a simple method to find their IP addresses at any given time.
You can do this by using the dig command, which is part of the BIND DNS service and can be found in many free online dig services, and running:
'dig -t txt _netblocks.google.com'
This is like asking, "What are Googles IP address ranges?" In the answers section, we can find all of Google's networks. Keep in mind that these networks can change at any given time, so it's important to make sure to keep your list up to date.
(click to enlarge)
Monitoring Google Apps impact on your network
We can take the information we learned in the previous step and apply it to our cloud service monitoring and reporting solution, by adding subnet filters, to see how much of your overall bandwidth is being consumed by Google services. We host our own in-house mail server, so we have a relatively low, but consistent, amount of traffic to Google throughout the day.
(click to enlarge)
Monitoring Google Apps traffic by application
Here comes the most exciting part. With a NetFlow or IPFIX exporter that supports deep packet inspection to identify the layer 7 application, such as a SonicWALL, you can find out exactly how much traffic is being consumed by each Google App.
(click to enlarge)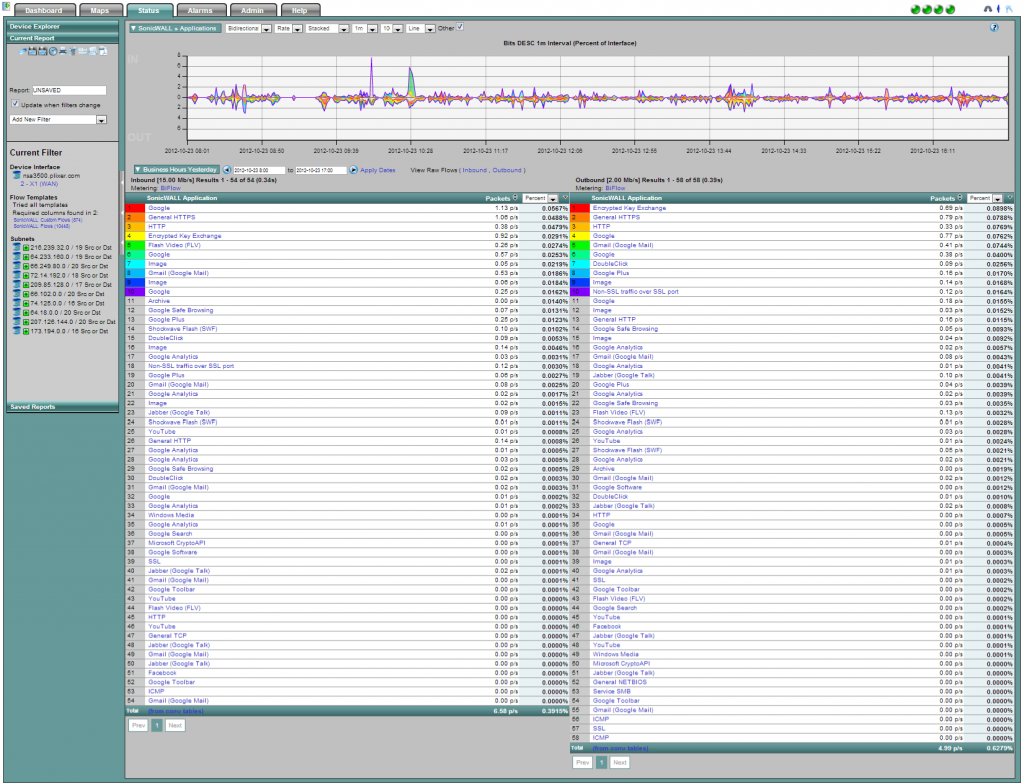 Best at NetFlow and IPFIX solution
This is only the tip of the iceberg when it comes to what our NetFlow and IPFIX cloud monitoring and reporting solution has to offer. We haven't even touched on cloud service performance monitoring. If you'd like to learn more, let us know what applications you've moved to the cloud and need to monitor. We're glad to help!