Monitoring Cisco Telepresence with NetFlow or in this case Flexible NetFlow is a straight forward process if you have to important factors in place.
Configure the Cisco performance reporting. This gets the router to start monitoring Cisco Telepresence.  To do this, the configuration of the router must include certain commands.  Contact us for the command set.
Monitoring Telepresence requires a top notch Cisco Performance Reporting tool.
With the above in place, monitoring video traffic as well as reporting on voice traffic becomes more intuitive with one click NetFlow reports. Our Medianet Performance monitoring solution was the first to be certified by Cisco.
We tested our NetFlow collector with over 1500 routers (over 2000 interfaces) sending Medianet : Cisco Performance Monitoring data.  Our dashboard mashup can provide a one report interface to view the interfaces seeing the most jitter or latency.  For reporting: notice the 132 pages of interfaces in the screen capture below: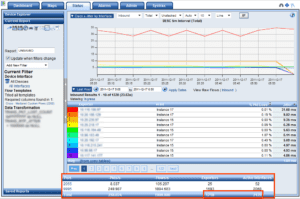 Give us a call and learn why more and more companies are making our NetFlow Analyzer their high volume netflow solution for enterprise netflow analysis. Monitoring Cisco Telepresence with NetFlow has never been this clear.