Are you thinking about migrating to Flexible NetFlow (aka FnF)?   If you are, you are probably aware that FnF brings the following to NetFlow:
NetFlow NBAR for application recognition
Performance Monitoring "Cisco Medianet"
Layer 2 information
Export to unlimited collectors
Much more…..
Flexible NetFlow is the basis for the proposed NetFlow standard called IPFIX which our NetFlow collection engine also accepts.  Vendors such as Sonicwall and Ravica are exporting IPFIX with VoIP details on caller ID and Codec.  Before you turn on FnF make sure you turn off traditional NetFlow and spend some time learning more about how to configure Flexible Netflow .  Today's NetFlow network traffic monitoring solutions are preparing for these new exports.  We already have them!
NetFlow NBAR for application recognition
With Flexible NetFlow and devices exporting IPFIX packets, you can report and alert on who is using applications such as Skype, Webex, BitTorrent, etc.
Performance Monitoring "Cisco Medianet"
Detailed information on VoIP calls including jitter, packet loss, and latency of RTP and TCP traffic is now available using our NetFlow Reporting tool and Cisco Medianet exports.
Layer 2 information
MAC address, VLAN information, all now available with Flexible NetFlow and IPFIX packets.
The following example shows iPhone traffic filtering from SonicWall IPFIX exports.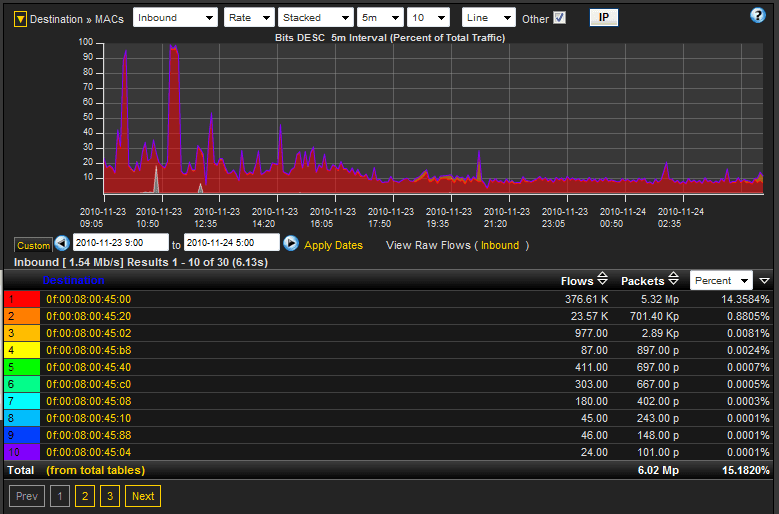 Export to unlimited collectors
FnF supports exporting to unlimited collectors.  You can even specify which flow data is exported to each collector allowing you to limit what data goes to each NetFlow collection engine.
Much more….
This is just the beginning.  There is so much more already available and so much more to come.  Filtering on URLs… What are the top websites visited?  Need to monitor Facebook and Youtube traffic?  No problem.
We know keeping up with the growth in NetFlow technology is challenging, if you have any questions, give us a call at 207-324-8805.  We'd love to hear from you.