The business of reporting on Microsoft Exchange logs just obtained a new player:  Plixer International who has released a product called Mailinizer.  This is a company that is first and foremost a NetFlow traffic analyzer company, so when Plixer decided to break into the email reporting software market, I wanted to discuss it with Scrutinizer NetFlow Analyzer Product Manager Michael Patterson.
As usual, he had some great information for me.
Q:  I think that it is interesting that Plixer is breaking into a new market.  Why did you decide to have a NetFlow company enter the email traffic reporting business?
A:  We had an internal need, started looking at products and felt that the exchange log reporting abilities in most products on the market was poor.  We wanted to view volumes of email traffic like we do in our NetFlow Reports.  When we dug into the Microsoft exchange logs, we realized that they look similar to NetFlow exports.  That is when one of our developers suggested that we export the data in IPFIX datagrams.
Q:  What is IPFIX?
A:  IPFIX is the proposed standard for Cisco's NetFlow technology.  NetFlow is primarily used for network traffic monitoring.  After looking at the Exchange log and seeing source and destination email address, subject, bytes, etc., it sort of smelled like NetFlow.
Q:  Are you trying to compete with companies like Promodag reporting for Exchange?
A:  In some ways yes, and I think that some companies are looking for Promodag Competitors.  However, the two products are different and have different benefits.
Q:  What are the issues with Promodag or Promodag problems?
A:  I thought the process of scheduling reports via Windows Scheduler involving batch files was kind of convoluted, and we felt that the report examples on their web site were sort of less than awesome.  I'm sure Promodag satisfaction among its customers is good.  We just wanted to view the data using trends and avoid a Crystal Report look and feel.  Being able to view and trend data over time with the ability to zoom in on time frames is a more fluid mechanism to narrow in on email issues.  Simple bar and pie charts are useful, and we can do that as well.  However, trends and filtering are our specialty.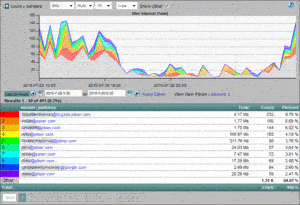 Q:  Filtering?  Do Promodag issues exist around its filtering?
A:  I don't know about that.  I'm pretty sure you can filter with =, <>, AND, OR, LIKE, or NOT LIKE just like you can in Mailinizer Exchange log analyzer.  Any reporting product worth its salt can do that.
Q:  That makes sense.  What are some things Promodag can do that Mailinizer can't?
A:  Well, I believe they export mailbox size.  That is a nifty thing that we hope to add.  We want to see what customers think of the Mailinizer first.
Q:  What are some of the other Promodag complaints?
A:  Heh heh, I don't know enough about the company.  I'm sure Promodag satisfaction is fine.  They might have a web interface, but I didn't see one.  Scrutinizer is 100% web-based and can report across dozens of Exchange Mail servers.  I'm not a fan of text based reports, but we do support a CSV export.  I don't believe you can configure thresholds to monitor for email traffic types in Promodag, but I'm not sure.  You'd have to ask them.  They are located in Paris, France.  I love that city.
Q:  How much does Mailinizer cost?
A:  It costs $4,995, which includes a two device license of Scrutinizer.  So, the base package includes reporting on two Exchange servers.  To support more mail server reporting, you just purchase another device license of Scrutinizer.  Scrutinizer has licensing for 5, 25, or unlimited devices.
That wraps up the significant questions I had for Mike.  If you are looking for an email address tracking solution that enables you to render email traffic reports, you might want to try both products:  Promodag and Mailinizer.  Let us know what you think.
207-324-8805
Follow Us on Twitter!
Find Us on Facebook!