I was talking with a customer the other day about our Microsoft Exchange Log Reporting software when she asked about monitoring the services on the Exchange Server.  This is the topic of today's blog.
Did you know that Microsoft Exchange monitors itself?  If an Exchange service stops on our server or if the server is rebooted it emails our Mail Server Administrator.  Below is one of the automated alerts he received one evening while performing an upgrade to our Maximizer server.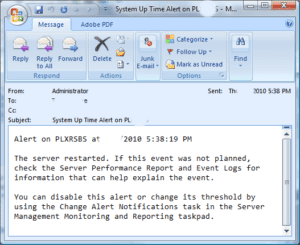 Below is another email that comes to him every morning providing the status of the server, including if the backup completed successfully, confirmation that update services are running, auto-started services that are not running, and critical errors in the event viewer.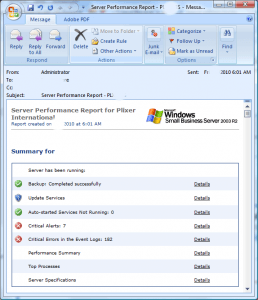 Using this Free Exchange Monitor, six critical services that can be monitored:
Exchange Information Store – manages Microsoft Exchange Information Storage.
Exchange MTA Stacks – provides Microsoft Exchange X.400 services.
Exchange Routing Engine – processes Microsoft Exchange routing information.
Exchange System Attendant – provides system related services for Microsoft Exchange.
Simple Mail Transfer Protocol (SMTP) – transports electronic mail across the network.
World Wide Web Publishing Service – provides Web connectivity and administration through the Internet Information Services snap-in.
Other critical items that can be monitored:
Available virtual memory – the percentage of virtual memory that is presently available.
CPU utilization – the percentage of CPU time that is presently in use.
Free disk space – the amount of disk space, in megabytes (MB) that is available for use on this drive.
SMTP queue growth – the number of minutes that the current queue has grown continuously.
Windows 2000 service – various services running on the Exchange server.
X.400 queue growth – the number of minutes that the current queue has grown continuously.
This might be why Solarwinds gives their Microsoft Exchange Monitor
away for free. It can be tough to compete with Microsoft.  One big short coming of most Microsoft Exchange Monitors is that they can't report on the logs the way our Exchange log analyzer can.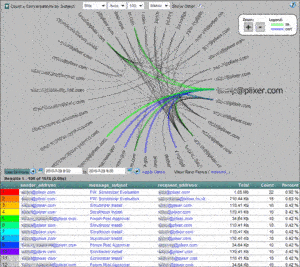 Reporting for Microsoft Exchange logs was a relatively easy addition to our NetFlow solution.  The IPFIX probe we developed sits on the server or on a remote system and collects the log entries.  The log entries are sent off in IPFIX data grams much like traditional NetFlow.  Once the IPFIX collector receives the messages, the Exchange Log Analyzer allows mail server administrators to dive in and investigate email problems (e.g. who received a specified email or the most email, etc.).
If you are looking for reporting on exchange logs, log monitoring software for exchange or if you need some IPFIX consulting, please give us a call.