With more companies letting employees work full or part-time remotely, what are companies doing to measure performance?  At our company, management discouraged letting employees work from home. That is, until we put a system in place.
Telecommuting Will Rise To Include 43% Of US Workers By 2016. says Forrester Research.
Management wanted the same convenient access to members of the team that they enjoy in the office and just popping in on people is difficult when the remote employees are hundreds of miles away.  With gas prices increasing and the pool of local talent getting scarce, something had to be done.
What is the problem?
The problem with letting employees work from home is that management fears that some employees will take advantage of the company.  Employees think they should be measured based on performance.  The conundrum is that not all positions in every company are easily measured and not all employees work equally well from home.
"Some people don't work well alone," says IBM's director of global diversity, Ron Glover. "They need to be engaged with others and close together so they can be supported and developed and performance managed." Businessweek.com
"The typical remote worker starts out almost euphoric," says Steve Sadler, UCAR's health and environmental safety officer. "You get to go home! But what researchers have found is that, over time, remote workers tend to bottom out." With the fridge always close at hand, weight gains are commonplace. A succession of minor but time-consuming tasks, such as laundry, can encroach on one's work time. "Sometimes remote workers start to get the sense that their fellow employees think they're goofing off. Some just can't take the isolation." Remote working is an article definitely worth reading.
The Company Policy on Working from Home
Our management decided to make working from home optional for about half of the company however, there are stipulations. If you want to work from home, you are given a camera with a microphone, a VoIP telephone and a Flexible NetFlow capable router. The same thing was done to the work areas at our corporate office. All digital communication is monitored and measured. This allows management and the employees at their own discretion to look at anyone else's traffic, view them on a web camera or even listen in to make sure dogs aren't barking, kids aren't screaming, people aren't excessively socializing, etc. The work environment needs to stay professional.
All the camera images were put on a big LCD hung from the ceiling.  Since nearly everyone has a wireless headset, private calls are taken into conference rooms. Below is a screen capture of the LCD we have hanging from the ceiling.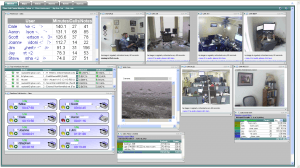 Look Up or Listen In
If you can't reach a colleague during the day, just look up and see if they are on the phone or at their desk.  Sometimes they can't pick up the phone but, will respond to a quick chat via Skype. It gives others piece of mind knowing that the person they want to speak with is at their desk but, unavailable at the moment.  Sometimes they will ping a neighbor to get the attention of the person they want.  In our office, the audio streaming from the remote employees is seldom used however, we have discovered that a couple remote employees like to stream the audio from the office. "I keep the volume down but, I like the background noise and sometimes I over hear conversations that I want to participate in." Said one employee. "I'll pick up the phone and call the person if I recognize the voice."
Big Brother is Watching
All banks and most department stores have cameras however, this isn't exactly big brother watching over your shoulder. It helps with socialization and communicaiton.
Whether you work remotely or in the corporate office, there are camera's in several work areas and even one conference room.  Most employees are indifferent toward them. A few like them and a few don't.  I like the reassurance of knowing when I can't reach someone, that they are at their desk and just unavailable at the moment.  Sometimes I look up to see if they are at their desk before I call them.
"I sometimes chit chat with coworkers at the coffee machine. One time I went back to my desk and had an IM waiting for me from one of the guys that works remotely. "Maybe you'll get some work done today after spending 10 minutes talking with Debby.  Heh heh…"  It made me smile and appreciate that remote employee, what it must be like sometimes working from home and missing out on social interaction." Said Mix Master Mitch. "My fans miss me."
NetFlow Reporting
We also have access to all in house and remote employee NetFlow data. This was initially done for sales demonstration purposes then proved very useful for trouble shooting VoIP using Cisco's Medianet Performance Monitoring and the nBox.  I'm sure some people might get curious about the web sites or applications others are running but, in actuality it is seldom looked at.
Communication Monitoring
We use Mailinizer to monitor email to and from all employees.  We also monitor and report on the call volume, minutes on the phone and entries into the CRM.  Everyone has access to these reports and quotas have been put in place for both sales and support. Employees short in any of the criteria become obvious.
Employees On the Phone Using Open Source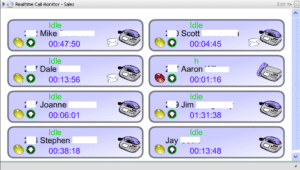 Email Reporting using Mailinizer and IPFIX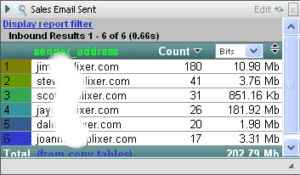 "Managers who think they can allow someone to telecommute and they don't have to worry about them as much as employees in the office is engaging in some kind of fantasy," says Vic Schacter, chair of the employment practice at law firm Fenwick & West.
Tips For Employees Working from Home
Gina Trapani provides some great tips on working remotely in the article Master the Art of Working Remotely.
In a Business week article titled Working Remotely …or Remotely Working? IBM found that "people who didn't have regular contact with co-workers were less happy and productive in their jobs.  Managers are now required to bring work groups together at a minimum of every three days – either physically or virtually"
"What we are trying to get our managers to understand is to recognize that human beings need to have social contact as well as work and task contact," says Glover.
Summary
Our company policy started off as absolutely no working from home. As you can see from the screen captures above, we are now allowing it more and more. All of the monitoring believe it or not keeps us connected as a team.
If your company is thinking about implementing a work from home policy or if they aren't and you would like them to consider it, give us a call.