Just a few weeks ago we announced that Mix Master Mitch was back in the studio recording a follow up to his hit single "NetFlow Rap." MMM fans will be excited to know that mixing and final production on the song is finished. Today the IT rap star kicked off shooting for the video and there was no shortage of network traffic analysis rhymes.
To help build the hype of what is sure to be the biggest thing to happen to the Internet since March Madness online video streams, I thought I would give a little peek behind-the-scenes.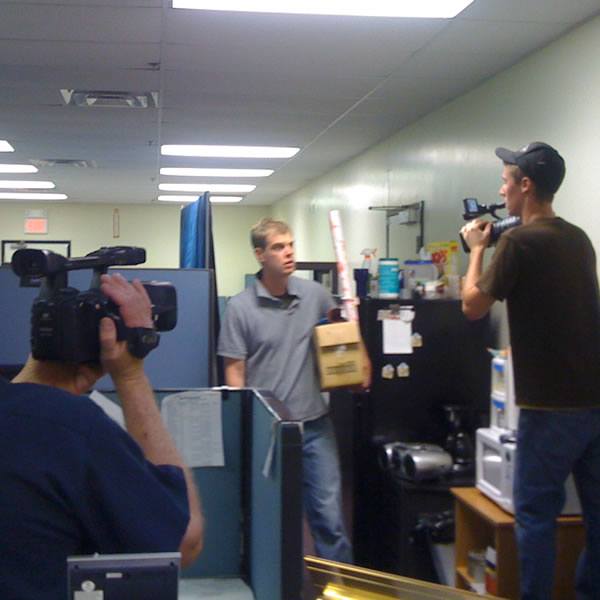 Mitch was kind enough to take a break in between takes to chat with me.
Jon: Mix Master, how is the shoot going?
MMM: It's totally off the hook, yo! When this drops on YouTube, the fans are going to love it!
Jon: What's different about this video from the original NetFlow Rap?
MMM: Everything. The beats are phatter. The rhymes are phatter. The video is phatter. The dancing is way… way… phatter.
Jon: So what was your favorite part of shooting the new video?
MMM: Definitely all of the bling. This track is all about livin' large in the IT world, so we had to blow it up! Props… Wardrobe… Everything is totally off the hizzy in this video.
Jon: When can fans expect to see the video hit YouTube and other online distribution channels?
MMM: We have one more day of shooting before we call it a wrap, and then maybe a week or two of editing and post production. So hopefully within the next few weeks we should be ready to go live. Make sure to check Systrax.com for updates, yo!
Jon: Well, that's all the questions I have. Thanks for your time Mix Master.
MMM: No problem dawg. Anything for my peeps.
So be sure to stay tuned for Mix Master Mitch's newest single, coming soon.