That is, unless you are trying to grow a garden.
The weather this past Saturday was amazing  — for Maine in May. In the Sanford, Maine area, it was in the high 70's, clear and sunny. So I decided it was time to move my houseplants outside for the "warm" season. The plants needed some direct sunlight, and a good soaking, which is not as easy indoors.
We have a large covered porch at the back of our house which catches the morning sun, and another at the front, with plenty of hooks and hangers to hang my plants. So I took the time to move about 20 plants from their indoor winter home to the sunny outdoors.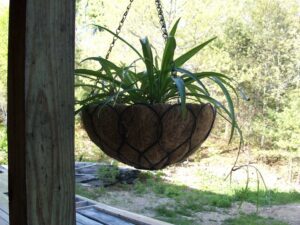 This also involved moving several plant stands out to the back porch with the plants. But it was well worth the effort, as I was able to reclaim my breakfast nook.
And having heard that the hummingbirds were back in the neighborhood, I also cleaned, filled, and hung out several hummingbird feeders on my front and back porches, including one on the bay window in the breakfast nook. It didn't take long for the hummingbirds to find them either. So not only did I have my breakfast nook back, but also a great viewing spot for watching the hummingbirds feed.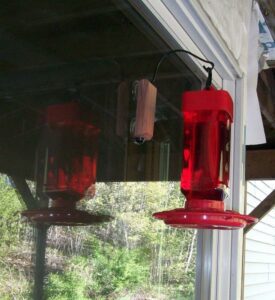 So all is well. For awhile. Remember, this is Maine. Not Florida. The saying here goes, "If you don't like the weather, just wait a minute." Because it will change. And it does change. Even if you do like the weather, it will still change. And it did.
In preparation for a frost last night, I had to bring all of my houseplants back inside. Oh, well, luckily the hummingbird nectar didn't freeze.