One of the highlights of my job is being able to work with people from all over the world. Calls from China, GotoMeetings with Norway and video conferencing with the UK are all day to day activities for me. This month is a little different. Yesterday was the first day of my world wind trip to London, Dublin and Paris.
Once I landed I needed to do all the things that an internationally traveling geek needs to do. The most important is getting connected! Between wireless at my lodging, cell phone and hot spots I have been able to get everything done that I needed. For most of my calls I use Skype and Skypeout. You can't beat free calls to any US land line from here in Europe.  I was even able to video chat with my family from a local pub.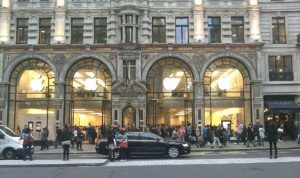 The rest of the day was spent walking around and seeing all the wonderful things the city has to offer. I passed by the Apple Store and took a picture for my Apple freak friend back at work. I stopped and listened  to a street performing  beatbox artist called mcxander that was truely amazing. I have never heard someone do a beatbox version of the didgeridoo. I think that we need to have his people talk to Mix Master Mitch's people and see if they can make something happen!