After getting back from Paris, France last year (which was my first international trip), I decided that I would do Rick Steve's job for half the price. I absolutely loved the experience and envy anyone that could travel on a regular basis.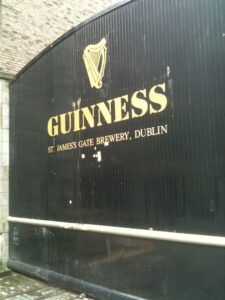 I made a personal promise that my next trip was going to be to Ireland. I've always wanted to go, so dangit, I was going to go.
Well, I just got back from my trip two weeks ago today and it was really an experience for the books. Between belching volcanoes, airlines losing my bags and Irishmen doing covers of Pearl Jam, it was fantastic-ness in epic proportions.
If you ever wanted to go, do it. Here's a couple suggestions from me:
The Guinness brewery tour is really fun to check out. Be sure to start your tour in the morning when they open, that way you can already be two (free!) beers into your day by 11am. Don't judge me, I was on vacation.
If you are a meat and potatoes person, Ireland is for you. The meals are really heavy, but the Irish beef and lamb dowsed in Guinness and served with a mountain of potatoes in a stew is just… fantastic.
The people there are amazingly friendly too. The closest I can compare it to in the U.S. is "Southern hospitality". You can walk into any pub, which apparently has no capacity ordinance, and you will get a hundred different greetings as you mosh your way through the crowd, spilling your beer on people. Don't worry, they don't care.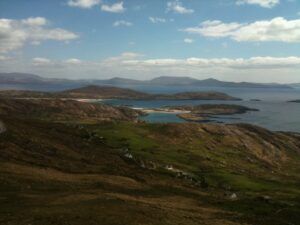 The sceneries depicted in the movies are absolutely true. The Ring of Kerry and Dingle Peninnsula were really amazing. So bring your camera, burn your favorite music on a couple CD's and get lost in the rolling hills of Ireland. I sure as heck did.
Don't rent a car at the Dublin airport! The car was fine, the crash course in driving on the wrong side of the road in downtown Dublin was interesting, to say the least. Get the collision coverage, you might lose a mirror or two, the roads are tiny. (For the record, I drove across Ireland and returned the car without a scratch.)
Blarney Castle. For the love of god, don't go. Its a castle, yes. But the concept of kissing the Blarney Stone scares me. Kissing a stone like the 500,000 other people prior to me may give me more than just the "gift of gab".
Irish Hurling: It's like Hockey, Lacrosse and Rugby all mixed together, but no padding. And there's about as much rivalry in one of those matches as a Red Sox/Yankees game.
Most important reason to visit: The Republic of Ireland is in recession. Those poor lads who only want to make amazing beers for the world to enjoy, need our money.
If anything guys, do it for the beer.
But I would recommend this trip for anyone young or old, since the country really has so much to do for everyone. I give it two thumbs up.