As much as I would like to see more companies switch over to IPv6 it isn't going to happen overnight.  Like anything involving an expensive migration process, you should ask yourself some questions.
When do businesses need to move to the new system and what are the advantages of switching over to IPv6? Why make the move?  I don't think you have to but, be aware that IPv6 use has grown by 300% over the past 2 years.
IPv6 has grown the most in Asia and Europe.

In the first nine months of 2009, the American Registry for Internet Numbers (ARIN) received 300 requests from carriers for blocks of IPv6 address space. This compares to 250 requests received in all of 2008 and 2007.
"We're seeing an uptick in IPv6 address space requests; it's a very significant growth rate," says John Curran, president and CEO of ARIN.

"We've seen a slight slowdown in IPv4 address space requests…It's probably dropped off 10% or 20% year over year."
In an interview with Supernova on Oct 30th, 2009, John Curran said that in 700 days, there won't be anymore IPv4 addresses.
Plixer and Scrutinizer NetFlow and sFlow Analyzer are ready with NetFlow traffic analysis and IPv6 support: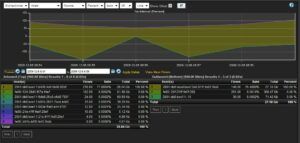 Call us with any questions on why we have the best at NetFlow solution.