As a member of the NetFlow Knights team, I am pleased to announce Plixer's first NetFlow and IPFIX technical book: Unleashing the Power of NetFlow & IPFIX written by Plixer's own Michael Patterson. This book explores how flow technologies are impacting businesses and improving the way IT organizations around the world are able to manage vast amounts of information with ease, efficiency and with more knowledge into the transactions utilizing the network infrastructure.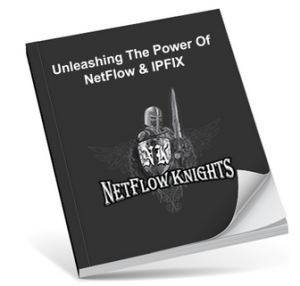 Unleashing the Power of Netflow & IPFIX investigates accomplishments that have been made with flow technologies such as NetFlow, sFlow and IPFIX. The book includes examples from different vendors and clearly outlines where this message export is going in the next 5 years.
The bandwidth needed to effectively implement Network Quality of Service as bandwidth is an exhaustible resource. Plixer's book addresses performance issues by revealing how the right choice of network hardware can dramatically improve Flow data exporting, collection, reporting and threat detection.
The potential of NetFlow & IPFIX is immense, therefore the book aims to make IT professionals aware of what is possible with NetFlow v9 (Flexible NetFlow) and IPFIX, how to properly implement them (and avoid the pitfalls), and why these flow exports can allow businesses to be far more competitive. At the date of this book's publication, these are considered to be the most cutting edge flow technologies.
As a leading provider of network performance measuring, and intellectual of flow technology, Plixer has instituted our own NetFlow Knights,  Advanced NetFlow Training class lead by some of the most respected NetFlow intellectuals in the industry.
If you're interested in ordering a copy of Unleashing the Power of NetFlow & IPFIX, fill out a book form. Or download the first chapter for a taste of this book on NetFlow and IPFIX.