As most of you know, IP SLA and Cisco NetFlow are both free features on your Cisco routers. If you are looking to somehow get a higher level status report on both, here is an idea.  Why not put both in your maps.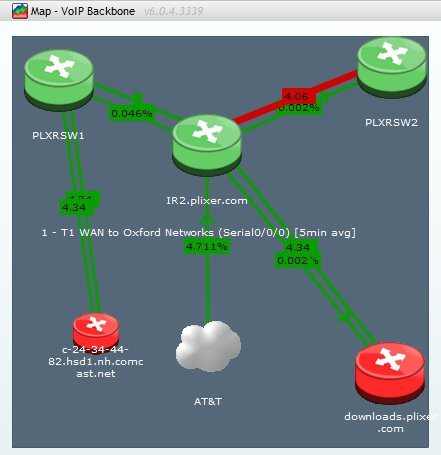 Notice that there are two links between devices that refresh every few minutes. One link represents utilization from NetFlow and the other link represents the MOS (Mean Option Score) on the link which is helpful with VoIP traffic monitoring. The second link can be based on any SNMP value (errors, latency, jitter, etc.) and is done using the Denika plugin.
This feature is 100% web based to configure and view in our Application Performance Dashboard 'MyView' and can be a nice addition to your network traffic monitoring needs. Within the maps, you can click on the links to bring up a trend of the interface. This is especially useful when the link changes color based on utilization and you want to drill in for details.
Call us if you need help setting this up.