Plixer International, developers of a market leading NetFlow and sFlow analysis tool set, today released Scrutinizer NetFlow & sFlow Analyzer version 7.3, bringing network traffic analysis software to the next level.
With the latest release of their NetFlow analyzer, Plixer has introduced several new report types, including NBAR reports. Cisco's NBAR technology does deep packet inspection into the traffic moving through the router to identify the applications being used by hosts. For example; H323, Telnet, RTP, Exchange and Skype are identified and exported in NetFlow.
"We feel, and have felt for some time, that Flexible NetFlow has the potential to expand greatly on the level of information that can be reported on by standard NetFlow," says Plixer CTO, Marc Bilodeau. "With Scrutinizer NetFlow & sFlow Analyzer version 7.3, Plixer is leading the pack in not only the adoption of Flexible NetFlow, but in the implementation of its key advantages over other versions of NetFlow."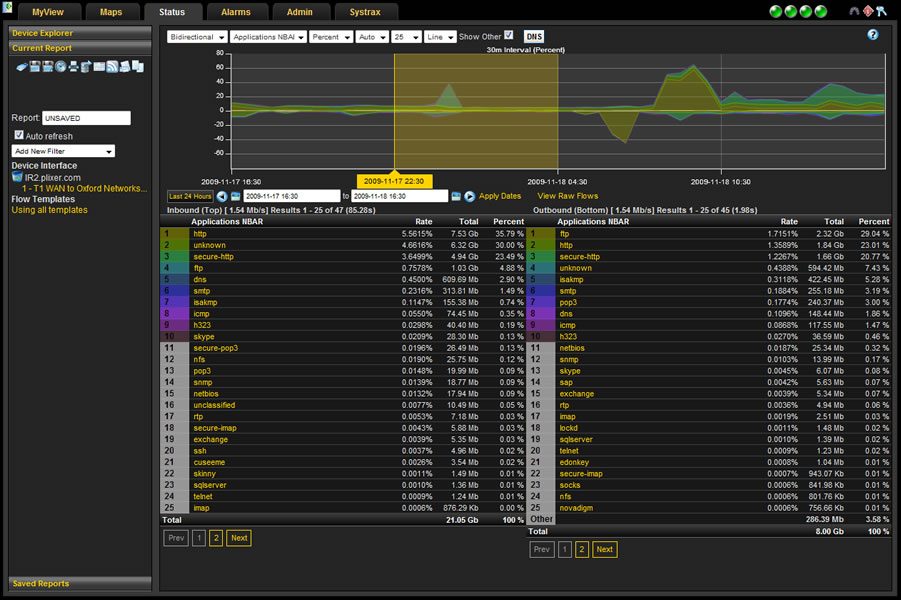 "Traditionally, only the source and destination port have been exported (e.g. TCP port 80) in NetFlow v5 and v9. Flexible NetFlow improves on NetFlow v9 to make NBAR exports possible, with the proper firmware update. Scrutinizer with Flow Analytics can set thresholds and alarm on NBAR flows using nearly any combination fields."
In addition to NBAR support, the latest version of Plixer's network traffic analysis software adds several more traffic monitoring report types, like Flow Volume, Flow Connections, Host Volume, Pair Volume and more.
To complement the enhancements to the core product, Scrutinizer's Network Behavior Analysis (NBA) tool, called Flow Analytics, has added new algorithms for detecting potential malicious traffic, such as, Breach Attempts Violation, DNS Violation, Nefarious Activity Violation and Unfinished Flows Violation
For more information on Scrutinizer product pricing visit the Plixer Purchase Options page.