In this blog I want to talk about enabling NetFlow on a VMware ESX. Netflow support has now been added to vSphere 5; by configuring your virtual switch to send NetFlow statistics to a netflow Analyzer you gain visibility into your virtual infrastructure. To be more specific, you will be able to monitor:
VM to VM traffic on the same host
VM to VM traffic on different hosts
VM to devices outside the virtual environment.
vSphere 5 supports 
NetFlow v5
, and it can be easy to configure. Just follow these steps below and you can start reporting on your VMware ESX with a Network Traffic Analyzer.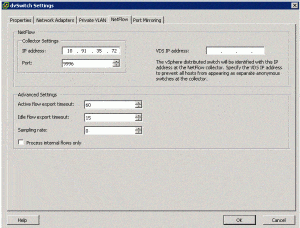 What about the configuration settings on the above screen capture?
The Netflow Analyzer is a passive application, it listens to incoming flows and captures them for analysis, therefore a NetFlow collector IP address and a listening port must be specified.
In order for the NetFlow and sFlow Analyzer to properly report on NetFlow traffic, you also need to set Active flow export timeout to 60 seconds.
A sampling rate of zero means that every NetFlow packet will be sent to the collector. Just keep in mind that this can be very resource intensive. A value greater than zero will enable sampling.
And finally the VDS IP address is the IP address of your distributed virtual switch, this is what the NetFlow Traffic Analyzer will identify as the flow source. In cisco routers it corresponds to the "ip flow-export source" command.
In "Running vMotion on multiple network adaptors", Eric Sloof briefly explains how to set up NetFlow in vSphere 5. (You can skip to minute 10:20 if you are not interested in watching the entire video.)
Please feel free to share your experience. I hope you enjoyed this blog.