A lot of our blogs talk about how to identify problems with Cisco NetFlow or to optimize network performance by using our tools. This blog post isn't about Google maps in the up and coming version of Scrutinizer v7. It's about an issue with Google maps and Linux that I have seen a few times with a few of our customers. The problem is that some customers cannot view the Google map configured in our NetFlow & sFlow Analyzer.

When the customer (he) clicked on the Google map icon to view the map, all that displayed was the world map repeated across the screen: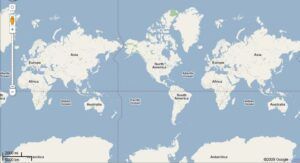 We went through all the normal troubleshooting steps, first checking to make sure he had generated and added API keys for each of the IP addresses and server names that Scrutinizer is accessed by, and confirmed that latitude and longitude coordinates were set for the flow exporting devices. Both checked out, no problems there.
The next logical step was to check the error logs. The Apache error log indicated a file not found. Hmmmmmmmm….. Let's see if we can find that file. So we searched the server manually but came up empty.
Did I mention this install is on a Linux box? Well, not finding that file triggered a thought for the customer. Permissions. If the HTML folder where Scrutinizer stores the files does not have the correct read/write permissions then the process will fail.
So he changed the ownership of the /var/www/html folder from root user to APACHE, refreshed the Google map screen and now the map was displaying with his device icons located on the map at their correct coordinates.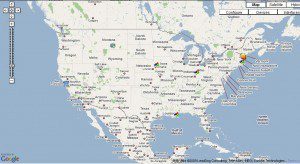 We really have to watch the folder permissions in Linux. Changing the permissions made all the difference in the world. Literally.
April 30th, 2012 Update: The Linux version is now available on our NetFlow appliance.