At Plixer International's Technical Support desk we often take calls in support of our NetFlow and sFlow analysis tool that deal with disk space and disk performance issues. In the world of NetFlow and sFlow collector appliances, the name of the game is to have sufficient available disk space and minimize disk I/O.
The available disk space issue is pretty easy to address. For the most part, you either have enough or you don't.  We have a Disk Space Calculation tool that can help you get a general idea of how much disk space you will need based on the Data History settings configured in the Scrutinizer application and the number of active exporters, interfaces, and flows per second being received.
When it comes to disk I/O, one performance tuning trick that is often overlooked is a simple defrag of the disk drive.
The collector appliance is constantly processing NetFlow or sFlow packets and reading and writing relatively small amounts of data to disk at a time. Over time the disk drive can become fragmented, and we see an increase in the amount of disk I/O.
Let's take a look at a fragmented drive.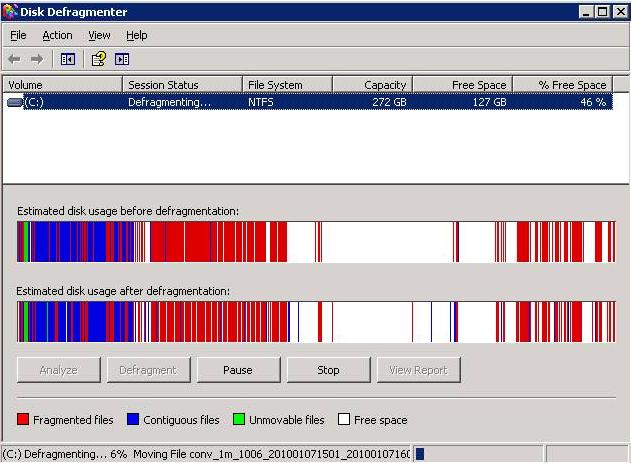 In network traffic monitoring, green is good and red is bad. With hard drives, blue is a good thing, red is bad. Ideally we would want to see mostly blue and white.
The Technical Support staff at Plixer International is always ready to help get the most out of using our NetFlow and sFlow Analysis Tool.
But remember to periodically:
Hit your START button, go to Programs/Accessories/System Tools, and run Disk Defragmenter to defragment your disk drive.