A while ago I had a customer ask me about getting MAC addresses using Flexible NetFlow.  Yes, it is possible but, two issues come into play when getting it to work properly.
• The router must support Flexible NetFlow export
• The collector must accept and display it
Configure The Router
The router must be configured to export MAC addresses.  Here is how we did it:
Step 1: Create a flow record and define fields that you want to export. Give it a name. Called MAC-ATTACK here. I  have also included various other fields. You can ALSO export output MACs. This can show you if the router changed the MAC.
flow record MAC_ATTACK
description MAC address flow monitor
match application name
collect ipv4 id
collect ipv4 source address
collect ipv4 source prefix
collect ipv4 source mask
collect ipv4 destination address
collect ipv4 destination mask
collect transport source-port
collect transport destination-port
collect transport tcp source-port
collect transport tcp destination-port
collect transport udp source-port
collect transport udp destination-port
collect interface input
collect interface output
collect counter bytes
collect counter packets
collect timestamp sys-uptime first
collect timestamp sys-uptime last
collect datalink mac source address input
collect datalink mac destination address input
Step 2: Create an exporter
flow exporter my-happy-funtime-exporter
description flexible NF v9
destination 66.186.184.205
source FastEthernet0/1
transport udp 2055
template data timeout 60
Step 3: Create a flow monitor
This tells the router what flow record and exporter to use:
flow monitor My-flow-monitor
description app traffic analysis
record app-traffic-analysis
exporter export-to-scrut7
Step 4:  Add Monitor to the desired interfaces
interface FastEthernet0/0
ip flow monitor My-flow-monitor input
interface FastEthernet0/1
ip flow monitor My-flow-monitor  input
Step 5: Enjoy the MAC goodness
The NetFlow Collector Must Accept It
The NetFlow collector must accept these new NetFlow packets containing MAC addresses. What's more, the NetFlow reporting interface must allow you to view and search for the source and destination MAC addresses.  Here is our initial interface to this data: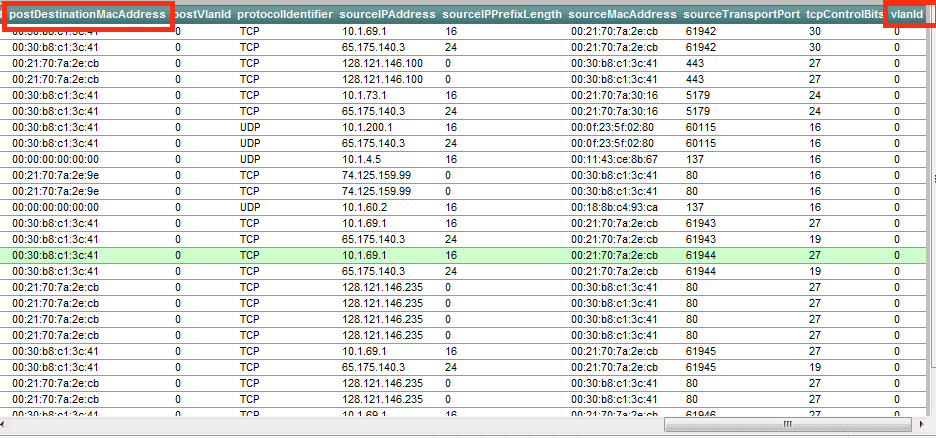 Notice to the far right in the image above 'vlandId' cool stuff!  You can sort and search on any column, below I'm searching for a MAC address:


I can also see the respective IP address for the MAC and trend the traffic for the IP.  All of this with the free version of Scrutinizer!
"The ability to correlate end-users' identities, as well as IP and MAC addresses, with anomalous network traffic patterns is important for enterprise IT security professionals," said Phil Hochmuth, senior analyst with Yankee Group.


Scrutinizer v7 supports Flexible NetFlow and is able to receive and store Cisco NSEL (i.e. NetFlow Security Event Logs) and PSAMP, etc.  Because of this, our collector is able to receive and display anything kicked out that is in a NetFlow v9 format.  However, sometimes we don't know how to display the data if the information isn't in the template or if the records aren't included as one of our defaults.  If you are having trouble displaying your unique NetFlow v9 data, please send a WireShark packet trace to me and make sure the capture includes a template!
Scrutinizer Has It Covered