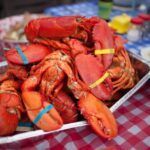 Do you remember exactly what you were doing July 26th? If you were at Plixer's FlowFest 2011 you were eating fresh Maine lobster after a successful day of Advanced NetFlow Training™!
What's that you say? You were cleaning the garage instead? If you weren't able to attend this year, no worries, there's always next year! FlowFest is a premiere NetFlow training event, hosted annually in the beautiful coastal town of Wells, Maine. (Thanks to everyone for the pictures!)
The 3-day training seminar, led by Scrutinizer's product manager Michael Patterson, encouraged customer interaction during hands-on labs for live NetFlow troubleshooting on voice, video, and data traffic using hardware from numerous vendors.
Topics covered included:
• Basic NetFlow Configurations
• Advanced Flexible NetFlow (FnF) configurations
• Packet Analysis Vs. NetFlow Analysis
• Saving raw flows and aggregating data
• Filtering: both include and excluding data
• NetFlow from the Cisco ASA
• Deduplication of data
• NetFlow sampling
• NetFlow Templates, what they are for and how to use them
• Ingress Vs. Egress NetFlow and why use them
• Application Analysis with NetFlow
• Layer 2 Analysis including MAC addresses and VLANs
• ToS (DSCP) reporting
• NetFlow Latency reporting from several different vendors (e.g. RTT, Jitter, Latency, Packet loss and more)
• NetFlow Forensics and Network Behavior Analysis with NetFlow and IPFIX
• How to correctly dine on a Maine 'lobstah' and chow on local steamed clams!
If you want more info or wish to become a NetFlow expert with our 2012 classes, follow us on Facebook and Twitter for up to the minute updates on current and future developments.
For any additional questions email me directly, 24/7!