Since the initial launch of the Flow Analytics add-on module for Scrutinizer, we've received quite a bit of praise and commendation for such a solid product. I'm not sure that even we were prepared for the success that was to follow this title.
Coming from the technical standpoint, it's been interesting to see our product at work on other people's networks.
During our initial installs, we have found worms, port scans and a plethora of strange behaviors that our customers were not aware of.  It even found malicious activity on my own laptop (not going into that again).
But one awesome piece of software deserves an awesome update, right?
With release pending, the 1.1 update is going to bring Flow Analytics to a whole new level that all our customers are going to love!
I'm going to include a couple screenshots that will be sure to get you excited about the new update.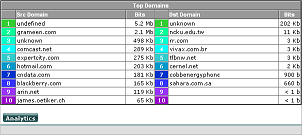 Check it out! With the above new gadget, now you will know what domains are popular on your network. Ever wonder if anyone is using or abusing YouTube or Ebay?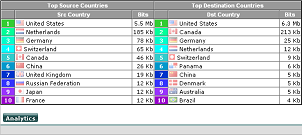 Another really cool new addition: Now you can keep track of where in the world your traffic is being directed. Seriously guys, how much more traffic visibility could you ask for?
These are just two small samples of the new features we'll be including. On top of that though, we've added quite a few more algorithms to ensure that you know whats going on on your network.
I hope you will enjoy this product as much as we have and a big kudos goes out to our developers for all the hard work they have put into another great title from Plixer!