We have all seen a number of blogs over the past few months talking about Flexible NetFlow. And with customers moving to the Cisco Nexus model switches, which run on Cisco's NX-OS operating system, we are now assisting in an increasing number of Flexible NetFlow configurations.
A big advantage of the Flexible NetFlow concept is that the user can define the flow. The user-defined flow records and the component structure of Flexible NetFlow make it easy for you to create various configurations for traffic analysis and data export on a networking device with a minimum number of configuration commands.
Don't be intimidated by the move to Flexible NetFlow.
Flexible NetFlow includes several predefined records that you can use right away to start monitoring traffic in your network.
These predefined records are available to help you quickly deploy Flexible NetFlow. And they help ensure backward compatibility with your existing NetFlow collector configurations for the data that is exported.
Each of the predefined records are based on the original NetFlow ingress and egress caches and the aggregation caches, and each has a unique combination of key and non-key fields that offer you the built-in ability to monitor various types of traffic in your network without customizing Flexible NetFlow on your router.
Many users will find that the pre-existing Flexible NetFlow records are suitable for the majority of their traffic analysis requirements.
There are many predefined records to make your transition to Flexible NetFlow easy and painless.
Two of these (NetFlow original and NetFlow IPv4/IPv6 original input) emulate original NetFlow.
For more information and details for each of these predefined records, including descriptions of the key and non-key fields, please see Cisco's "Configuring Cisco IOS Flexible NetFlow with Predefined Records" reference manual.
The predefined Flexible NetFlow records are associated with a Flexible NetFlow flow monitor the same way as a user-defined (custom) record.
The export can be configured in three easy steps.
1. Configure the exporter
2. Configure the Flow Monitor with the pre-defined Flow Record and Flow Exporter attached to the monitor.
3. Add the Flow Monitor to the interface to monitor either ingress (input) or egress (output traffic).
Now let's convert this Traditional NetFlow sample to Flexible NetFlow: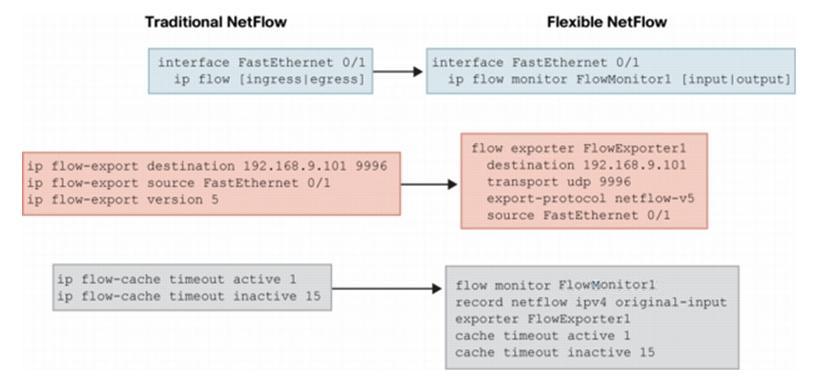 Flexible NetFlow has numerous advantages and has the power of supporting new performance monitoring statistics as soon as they are available.  And thanks to predefined records, the migration from Traditional NetFlow to Flexible NetFlow is transparent to the collector and does not require the collector to be touched.
Plixer International's NetFlow and sFlow Analysis Tool supports many of the new performance monitoring technologies available in Flexible NetFlow.  And with the use of Flexible NetFlow and Option Templates, NBAR, MAC Address, VLAN ID, Network Counters, Interface Names, and Bandwidth Utilization Billing reports are all available using Scrutinizer.
So if you're configuring your Cisco Nexus Switch, or just starting to get interested in moving to Flexible NetFlow for the latest in reporting options, give us a call.  (207) 324-8805.