Our company was working with Exinda NetFlow exports last week.  At first pass they seem to have done a very good job with their flow architecture. Although they don't support IPFIX yet, they did take the time to make sure they used element IDs above 39000 which helps ensure no conflict with Cisco. I wish we could say the same for Riverbed.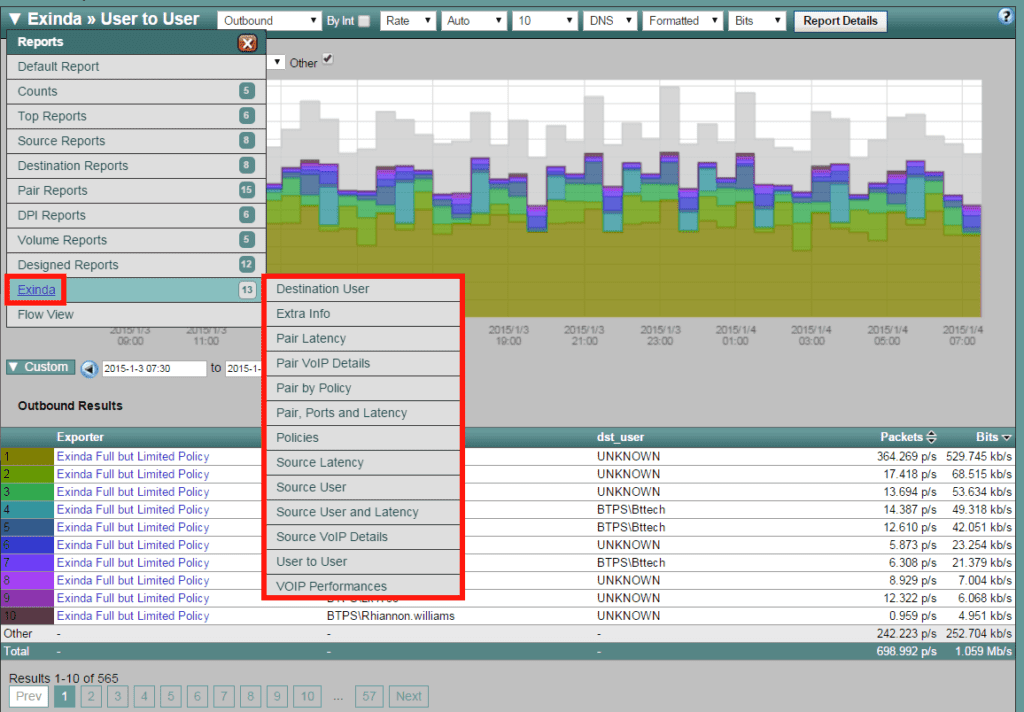 Exinda Vs. Riverbed
I don't have the background necessary to turn this into an Exinda or Riverbed for WAN optimization blog, however, I can write with a good level of competency about each company's NetFlow exports. First of all, the Exinda NetFlow architecture is open to all vendors and Riverbed is not. Riverbed's NetFlow implementation can actually lead to Steelhead problems when it comes to NetFlow Reporting. If a 3rd party NetFlow solution decodes an element ID according to Cisco, obviously, decoding it for a Riverbed export the same way may not work.
Riverbed encourages potential customers to use their proprietary Cascade Flow solution which uses element IDs that belong to Cisco. Unfortunately, Riverbed engineers were not careful and selected element IDs that overlap with some Cisco exports. This means if you pay for the Riverbed® Cascade® solution and try to look at certain Cisco Flexible NetFlow exports, it won't work.
On the other hand, this will not be the case with our NetFlow Analyzer as we worked with Exinda to make sure there is no overlap with Cisco.  In fact, even the details that Exinda is exporting related to latency, jitter, username, NBAR, etc. have no conflict with Cisco.
More Riverbed Issues
Riverbed does not share all the Cascade Flow details preventing companies who have paid thousands of dollars to participate in their partnership program from building value add reports.  This prevents companies like us from decoding their exports.  Riverbed is the first company we have observed which has blocked out other vendors from reporting on all of their NetFlow exports.  Exinda on the other hand, like all other vendors (including Cisco), leaves their NetFlow exports open to any vendor (i.e. even non partners).
Check them Both Out
The dramatic application performance increases seen with both of these products on WAN optimization certainly make them both worth checking out. I would even add Cisco WAAS NetFlow support to the mix if you are considering different solutions.
I'd be interested in learning more about anyone's experience working with these WAN optimization solutions.